How to Spend Less Money on Vacation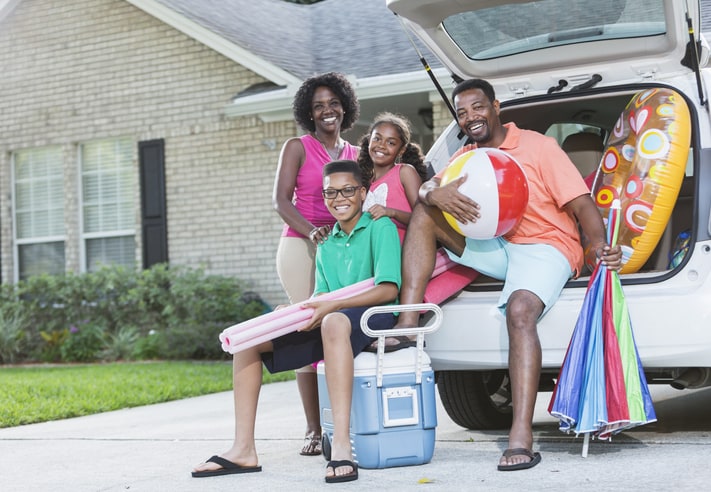 If you're like most Americans, you probably spend more money than intended when you're on vacation. But it's entirely possible to avoid overspending – and still have a great time – if you plan in advance. Whether you've booked inexpensive vacations over long weekends or a once-in-a-lifetime overseas extravaganza, our four simple steps to having fun on vacation while spending less are a blueprint for a stress-free time away.
1. Start by Saving for Vacation
Affordable vacations start with savings. If you leave for your trip armed with dedicated funds, and then spend less when you can, you'll be able to enjoy a guilt-free splurge or two. Set aside money each month in an American Heritage Vacation Club Account. You'll be surprised how quickly your savings will grow.
2. Budget for a Stress-Free Good Time
Upfront planning is a great way to involve your whole family. It gives everyone a chance to get to know your destination, think about what each of you would like to experience, and contribute together to your overall schedule.
Get everyone involved by making a family wish list. Let each family member choose an activity or event to do together on vacation.
Armed with your wish list, look for discounts by searching Groupon, LivingSocial, Travelzoo, or other discount sites for deals on events and vacation packages. You'll be amazed at how much money you can save with a little research.
Budget spending money by giving everyone in your family a set amount. You may want to give older kids a lump sum, and little ones a daily "allowance" to make sure they don't blow their money all in one place. Help your kids understand that once they've spent their share, they don't get more.

3. Save on Flights, Food, and Hotels
You'll benefit from lower airfare if you book about three months in advance. Here are some other helpful hints to help you spend less:

Book hotels that offer free breakfast.
Pack snacks like nuts, protein bars, and trail mix for quick meals on the go. If you have a flight delay, you'll be glad for the stash.
Save on expensive dinners out by booking a hotel or rental with a kitchen. Cook with fresh foods from a local farm market. For fun, try something new.
Go out for lunch instead of dinner. Most restaurants offer lower-priced menu items at lunchtime.
Research to find the greatest discount. Sometimes, booking sites don't offer the best rates. You may find better deals when speaking directly with your hotel. Mention any group memberships like AAA, AARP, or loyalty programs.
Save hundreds on hotels by travelling overnight on a bus or train.
Skip the hotel altogether. Stay with friends or family.
Use your American Heritage Cash Reward Mastercard® and get 3% cash back gas, 2% on restaurants and 1% all other purchases, perfect for all your road trip needs.
4. Save on Experiences
Tourist attractions are great, but also expensive. Even if you've traveled to enjoy a pricey amusement park, take the opportunity to explore your destination's unique local color:
Look for free or low-cost tours of historic sites, open rehearsals at city opera houses, and pay-what-you-can days at museums.
Enjoy community events like festivals, carnivals, or live theater in the park.
Why not plan a trip around a free attraction? Type "free things to do (city name)" in your search engine, and then design a vacation around the one that looks the most fun. You might discover a free tour of a gold rush boom town in Alaska or get tickets to a live show taping in New York City or Los Angeles. Your family might love to see OZtoberFest in Kansas or the strange landscape of Carhenge in Nebraska. The possibilities are endless.
Use the points you've earned with ScoreCard® Rewards to get deals on activites and merchandise.
American Heritage Can Help
From the moment you leave home until the moment you return, we want you to enjoy your time away. And it's much nicer to return from vacation knowing you haven't blown your budget. So, spend less when you can.
While saving money before your vacation is always best, you may find you haven't put quite enough away for this year's vacation. If so, American Heritage has a budget-friendly solution that will save you money instead of high-interest credit cards. Our Vacation Loan offers up to $1,200 at a low APR* of 12% with 12 months to pay. To apply today, click here.
*Annual Percentage Rate (APR) Rates for this product are determined by an evaluation of applicant credit. Sample Monthly Payment: $106.62 for every $1,200 borrowed at 12.00% APR for 12 months.
Rates effective as of 5/1/2019. Your payment may vary. Approval is subject to creditworthiness and other factors and requires active direct deposit to an American Heritage Credit Union deposit account. Valid 5/1/19 through 6/30/19. All rates and promotions are subject to change without notice.