Online & Mobile Banking
New Mobile Teller App is Here!
American Heritage Credit Union has released a new and improved mobile app experience. Visit the app store links below to download and begin using it today! To learn more about the new Mobile Teller app, visit the FAQ here.
Anywhere, anytime.
Bank on your terms with our convenient technology, credit union benefits, and friendly service from a dedicated local team.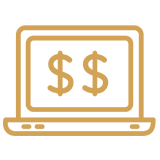 Online Teller
Easily and securely access your accounts from your computer or mobile device – no branch required.
Check account balances and transfer funds
Manage all of your bills and payments in one place
Use ePay to easily make person-to-person transfers to friends and family
View your FICO® Score
Click here to register for Online Teller.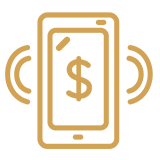 Mobile Teller App
Enjoy 24/7 account access to all the features of our Online Teller through our free, easy-to-use app*
Deposit checks from anywhere with eDeposit**
See your balance at a glance with Fast Balances
Card Controls
Download our Mobile Teller App from the Apple App Store or Google Play Store today!
Instant Account Alerts
eAlerts are text or email messages sent to your phone, mobile or desktop device that inform you of certain account transactions. Messages include direct deposit received, low balance in your account, when checks clear and much more!
To sign up for eAlerts, log into Online Teller and click on the eAlerts Tab or log in to your Mobile Teller App, click Member Service > eAlerts.
Other Free Online Features
Video Advisor

Meet VANA (Video Advisor Network Associates), our Video Advisor service that provides members with a virtual face-to-face experience on your smartphone, tablet, or computer to connect members with one of American Heritage's VANA representatives. The service allows members to manage their finances wherever they are, at their convenience, all while staying safe. Click here to learn more about Video Advisor.
Mobile Wallet & Payments
You can use your mobile wallet to make purchases with your American Heritage credit or debit card – even if you left your card at home. Our cards work with Apple Pay®, Google Pay™, and Samsung Pay®, so add your card to your mobile payment app, and simply tap and go to make faster, more secure purchases at thousands of merchants.
Card Controls
This safety feature allows you to activate a debit card, submit a travel notification, manage overdraft privilege, deactivate a lost or stolen card, change authorization limits and more. Log into your Mobile Teller account to use this feature!
eNotices
Receive to-the-minute activity updates via text or email that can be accessed in Online Teller. Some alert types include Notice of Overdraft Privilege Payment, Online Teller Information Change, Mobile Wallet Notification, and much more! Log into your Online Teller account to register!

QuickPay
Make your American Heritage loan payments through our online portal. QuickPay allows for faster, electronic payments (recurring and non-recurring) using your debit card or directly from another financial institution, no checkbook or branch visit required.
Click here to get started.
Free FICO® Score
All American Heritage members with an Online Teller account have access to see your updated FICO® Score FREE each month! Log into your Online Teller account to register!

eDeposit
Using your smartphone, use our free** eDeposit service inside of our Mobile Teller app to deposit a check to your account so you don't have to stop by a branch! Login to our Mobile Teller App to get started!
Online Card Disputes
Members can dispute debit and credit card transactions through Online Teller. This self-service feature is available under the Card Services tab on the top banner if your Online Teller account page.
eStatements

Our eStatements are convenient electronic records of your monthly account activity that are secure and environmentally-friendly. Sign up for eStatements in Online Teller or our Mobile Teller App. Log into your Online Teller account to register!

Bill Payer
American Heritage's Online Bill Payer makes paying bills better, easier and more convenient than ever. You control the amount of the payment and the designated date that each payment is sent and schedule payments in advance to automatically transfer funds from your Credit Union account on the day you specify. Log into your Online Teller account to register!
Phone Teller
Manage your American Heritage account with a simple call. Utilize multiple account management tools 24/7 with Phone Teller.
Call 215.969.8200 to start using Phone Teller!
My Money Manager
This easy-to-use financial management tool, available through our Online Teller and mobile app, helps you plan and control virtually every area of your finances, with functions to help you budget, categorize expenses, create savings goals, and much more. Log into your Online Teller account to register!
Text Chat
Text us at 264328 "AMHFCU" to chat with a Member Advisor. We can help with basic, non-account specific questions when you are on the go!
*Internet service provider fees and 3rd party fees for message and data plans may apply.
**The eDeposit application is available to qualified members only.
FICO is a registered trademark of Fair Isaac Corporation in the United States and other countries