Life Stages: Should I Insure My Engagement Ring?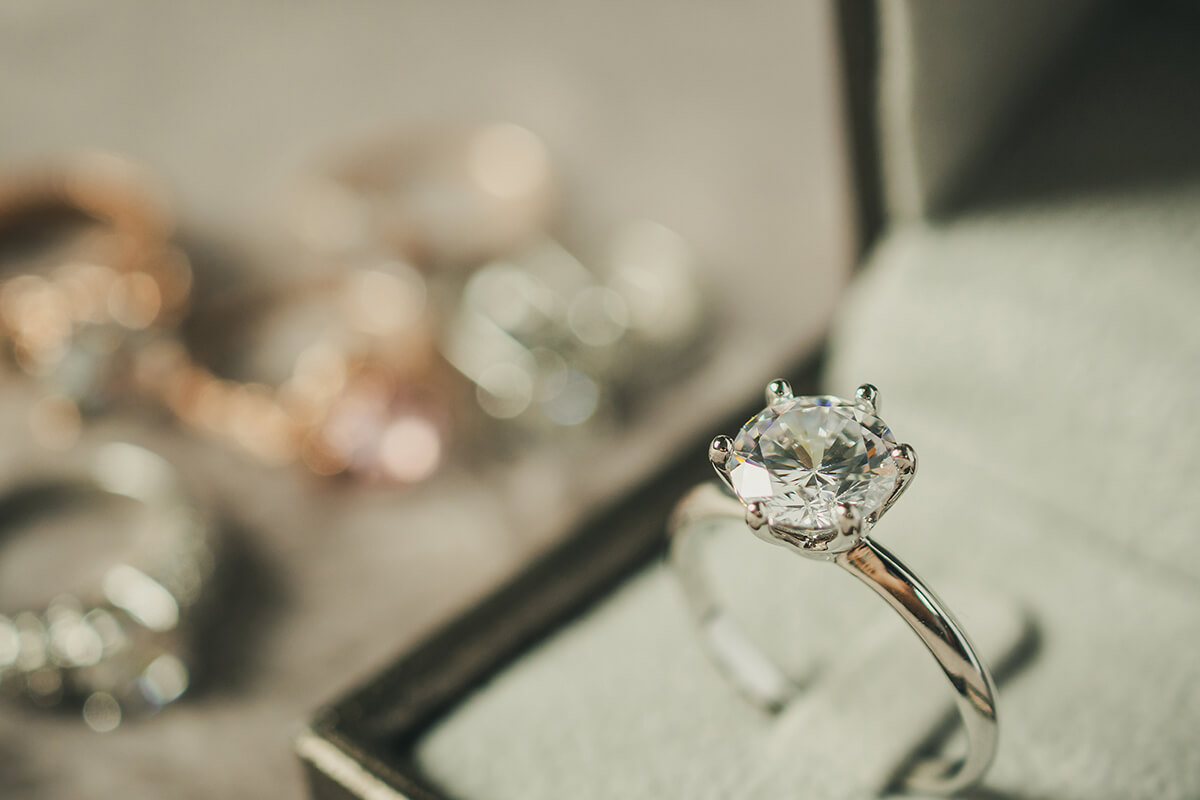 According to The Knot, the average engagement ring costs $5,500. For an object designed to be worn on the hand, that's an expensive item to go unprotected. Accidents happen. Your ring could get lost, stolen, or damaged during daily life or travel. Keep reading to learn how to secure this sentimental purchase's safety with an insurance policy designed to protect fine jewelry.
How do I insure my ring?
Insurance for your ring can be added onto your current homeowner or renter's insurance in the form of an extension (also known as a rider). However, should you ever need to file a claim, your entire premium may be raised. Plus, if you move, you will want to make sure that this plan follows you.
There are also jewelry insurance specialists who operate separately from your existing insurance. No matter which route you take, make sure to have your ring appraised by a qualified person with a background in gemology or a member of the American Gem Society, if possible. Appraisals are necessary for creating your insurance policy.
Keep in mind your insurance rate, which is determined by multiple factors like the ring's value, where you live, and whether your plan has a deductible or not. When researching plans, ask these key questions:
How do you provide proof for claims?
Does the policy cover damage and loss, or only theft?
Can you choose who repairs damage?
Does the policy cover a complete replacement, or only a cash payout?
How do replacements work?
Does the policy cover international travel?
When should I insure my ring?
From the moment the ring is paid for and in your possession, you are liable for it. The purchaser of the ring can opt to insure the ring before popping the question to keep it safe for the big day and beyond.
This can be compared to car insurance, where you provide proof of insurance before driving the vehicle off the lot. While ring insurance is not mandatory, it can help provide peace of mind with such a significant purchase.
There is no time limit for obtaining jewelry insurance, but if it has been a long time since the ring was purchased, a reappraisal may be necessary to obtain a policy. Though fine jewelry typically doesn't depreciate at the same rate as other items, a ring purchased a decade or two ago may need its value adjusted for inflation.
How much does it cost to insure my ring?
While rates depend on factors discussed above, the average person pays 1-2% of the ring's value annually. So, based on the average $5,500 ring, you could pay as little as $55 each year. Losing or damaging an item that you have an emotional attachment to can be about more than just the money. Having a plan set just in case can help relieve some of the negative feelings associated with the loss.
What else can I do to keep my ring safe?
Make sure that your policy has the correct amount of coverage, and that you keep the original receipt with photos of the item to make filing claims as easy as possible.
Store your jewelry in a locking jewelry box or safe-deposit box for added security.
When traveling, only bring the jewelry you intend to wear and leave any extras at home. This means not leaving jewelry in your luggage for the airplane, cruise line, or other public transportation venues to handle.
Have your jewelry inspected and professionally cleaned regularly to make sure that all clasps, clamps, and gemstones are secure and not at risk of becoming loose or damaged.
How do I get insurance?
American Heritage offers Liberty Mutual Insurance Provided by our partnership with TruStage™ Insurance. Speak with your provider today to learn what your options are for insuring jewelry and other valuables!