Ask the Experts: Video Advisor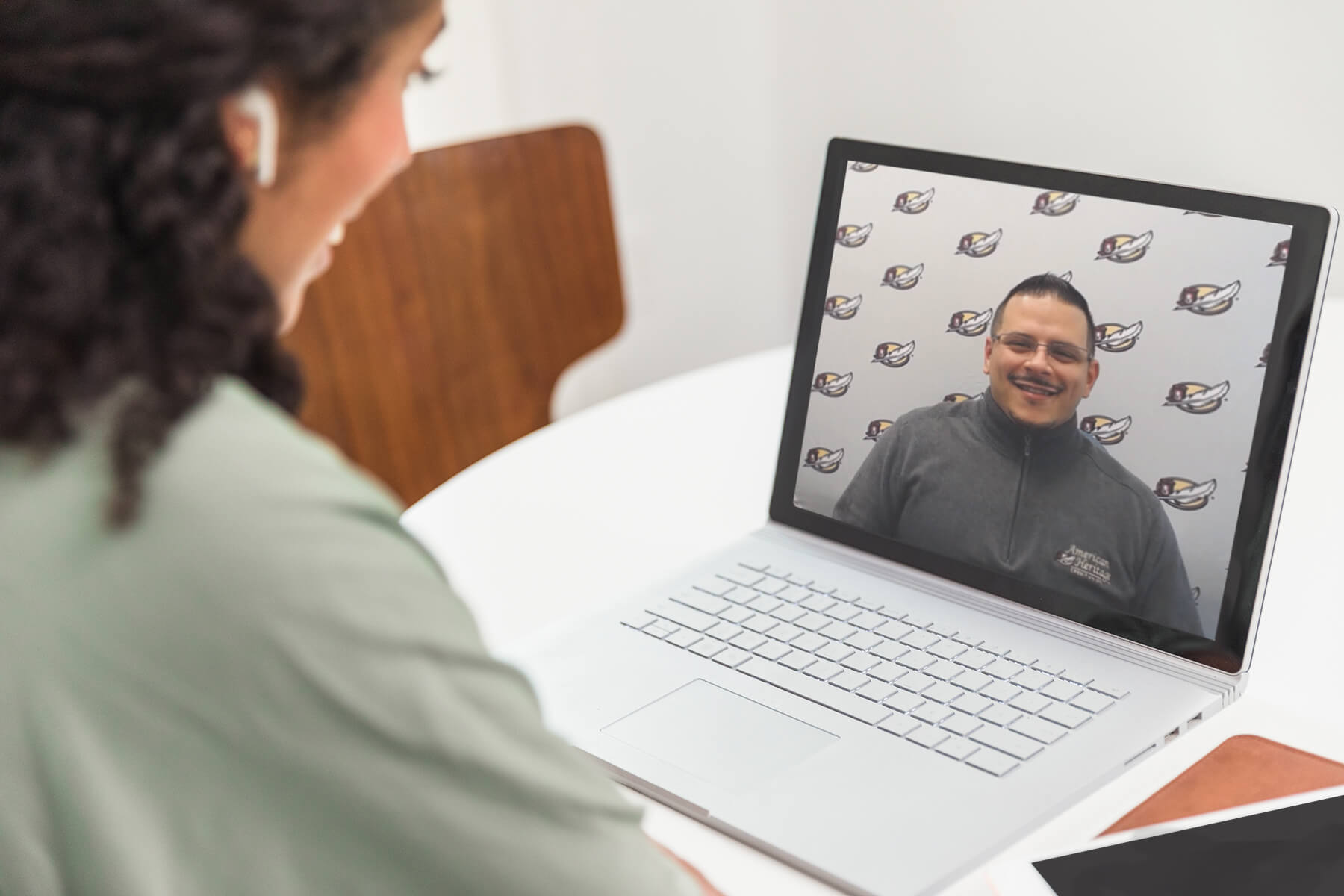 In this new series, we take a look at the inner workings of the Credit Union and meet some of the champions who help our members in every facet of their financial lives. This month, we met up with experts Devon Yoak and Christian Suarez, who are working together to bring a new project to life. This project, known as VANA, our Video Advisor service, is an exciting new communication channel for members near and far.
Devon Yoak
Branch Operations Project Analyst
Has been with American Heritage for 2 years

In the beginning, Devon was in meetings to find a solution to help members in a more virtual way, especially during the pandemic. Once connected with the Video Advisor system, she and her small team got everything off the ground. With this team, Devon attended training and made necessary updates and adjustments, read release notes, and notified staff about system changes. Due to volume, she has also been taking incoming calls.

Christian Suarez

Assistant Branch Manager in the Contact Center

Has been with American Heritage for 5 years

Christian was tasked to recruit and interview for the team that would service the members in Video Advisor. He wanted to make sure the team could virtually convey a branch experience for the user with most of the same services. From there, he assisted in testing the program, looking for ways to improve its workflow. He wanted to make sure that complex issues or detailed scenarios, such as opening an account for a relative, were possible.
What is Video Advisor?
Meet VANA (Video Advisor Network Associates), our new Video Advisor service that provides members with a virtual face-to-face experience. Like visiting a branch and meeting with a representative, Video Advisor offers these services from the comfort of your own home, during your commute, on break at work, or anywhere else with a connection. In fact, Video Advisor offers later hours than the physical branches, making it the perfect solution for busy schedules.
Video Advisor helps both members and staff with its virtual environment.
Who would benefit most from this service?
All members benefit from VANA! Whether you use this tech in your daily life or are new to video conferencing, Video Advisor's approachable interface makes calling in easy.
People who are physically unable to visit, such as those living or traveling overseas, can use an internet connection to service their account, rather than calling in on the phone. Besides the extended hours, Video Advisor can complete a wider range of tasks, further serving these long-distance members. Also, those within the United States who may have moved outside of the branch footprint can now experience face-to-face communication with our agents.
Stationed military personnel, first responders, or people who work long shifts can access their accounts with personal service that compliments their schedule without a branch visit. Similarly, busy parents, vacationers, or other on-the-go members can call from anywhere.
Members who need to make group calls with joint owners in multiple locations or have circumstances that require more than one agent can all conference together in Video Advisor.
At-risk members or those who are otherwise unable to visit a branch are still able to benefit from face-to-face service. In this way, we can keep members and staff safe.
What types of transactions can I do with Video Advisor?
Video Advisor's technology increases the number of services we're able to remotely offer members compared to other communication methods like a phone call. Video Advisor offers nearly all the same services that a branch visit offers!
Here are some, but not all, of the possibilities:
Become a member
Create a personal, joint, youth account, new share
Open a certificate, IRA
Apply for a personal loan, home equity loan, and others
Check mortgage rates and apply
Check current loan status and sign loan documents
Information like a driver's license or documents can be requested and submitted
Sign all documents currently offered electronically
File and sign a dispute for fraud
Refinance an auto loan
Skip-a-Pay
Update your account: change of address, phone, name, add or remove someone, close an account, complete Account Maintenance Request Forms
Receive online banking assistance
And more!
It may be easier to remember what you're unable to do using Video Advisor. Transactions such as a check deposit, certified check withdraw, notary services or signings requiring wet signatures (like a mortgage closing) are unable to be performed via Video Advisor.
As Video Advisor grows, more features will be continually added. Be sure to check back soon!
What is included in the "advisor" part of Video Advisor?
The representatives on Video Advisor can help you with your account needs. Conversations may include advice on loan rates, credit score help, day-to-day assistance, or how to manage your account.
Our agents are here to build relationships and be a point of contact for basic decision-making like obtaining a first mortgage or choosing rates based on terms.
While Video Advisor is not a formal financial advisory platform, the agents are able to make referrals to our Investment and Retirement Center on your behalf if you would like.
How does American Heritage protect my information?
American Heritage requires annual credit union-wide compliance trainings that include confidentiality in all matters, and VANA is no exception. All personnel working with Video Advisor have also been trained specifically for the platform and have the knowledge to serve members calling in from a variety of environments. For joint accounts that have more than one owner, you can both appear on video or even join the meeting from separate devices simultaneously.
Just like a physical branch location, Video Advisor also has its own security to keep your information safe. Any files, documents, or identification uploaded using the platform is securely stored and accessed only by the Advisor on the call.
Because you may be calling in from anywhere, our associates are trained to assess the situation and won't ask you to say sensitive information aloud in public. Headphones are recommended in these cases so that we may confirm the information with you. Or, if you prefer, you may use the chat function, which allows you to type this information to share it directly and privately.
How is Video Advisor different from an in-person visit?
"Video Advisor is everything but the handshake."
Expect your Video Advisor call to go exactly like an in-person branch visit would. You'll still exchange introductions, verify your identity, then proceed as normal. It's that simple!
Where are the Video Advisors located?
Most agents are located within our Contact Center on our main Red Lion Road campus. Some of our other branches are using this service and some agents are working remotely during the pandemic.
Am I losing a "personal" touch when I'm working with Video Advisor?
While we are not physically together as we work to keep everyone safe and provide additional communication channels, we're still here. You will still see expressions, hand gestures, and all the other benefits of face-to-face communication — especially smiles. Those who work with Video Advisor are the same people who work in the branches every day.

On the other hand, Video Advisor could be considered even more personal because now you're including us into other parts of your life. Your home, your commute, your travel – we're right there with you.

Video Advisor's team continues to grow. In the beginning, you may see the same people, but as the service grows and there are more agents, you will be able to choose who you talk to. You can choose the next available representative or request someone specific if they are available. If you've built rapport with an agent or want to continue with someone who was working with you before, you can do so.
Final Thoughts
Word of Video Advisor is spreading quickly and picking up faster than anticipated. Even from a branch level, word of mouth travels fastest. We are excited to know that our members value this new service, and we will continue to help it grow to meet demand.

Contributing to its success has been an existing need, a personal touch, and a good team to get it off the ground. Many members have already found the service organically through our site and decided to try it for themselves!

For members near and far, everyone's lives and needs change, and with Video Advisor, we can continue to service them.