6 Tips to Help You Spend Less on Groceries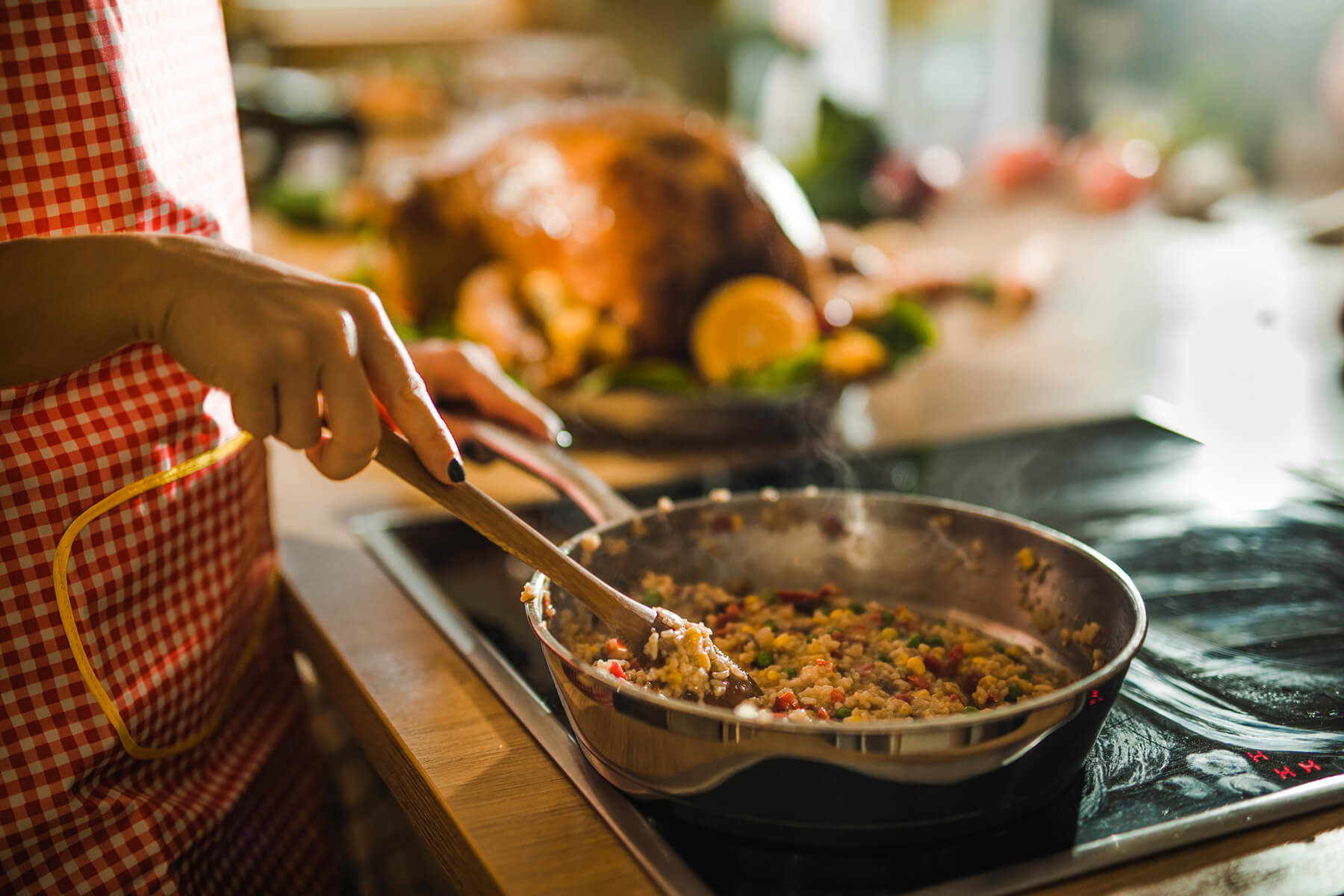 Whether you're planning for an average weeknight dinner or a Thanksgiving feast, it can be hard to get your grocery bills to align with your monthly budget. The good news is that there are many great strategies for saving money on groceries that work for Thanksgiving and all year long. Here are some of our favorite tips.
1. Plan Ahead
If you're hosting Thanksgiving dinner, don't wait until the week of Thanksgiving to start prepping. Create a menu a few weeks out and start shopping in advance. You'll avoid the crowds and can take advantage of the pre-holiday season sales. Start by focusing on nonperishables like canned ingredients, spices, and baking supplies. When you get closer to the holiday, you can focus on the turkey and fresh produce.

If money is tight, ask your guests to help by making Thanksgiving a potluck, or save on alcohol by making the dinner BYOB.

The same approach applies during the rest of the year. We often resort to takeout because "there's nothing in the fridge." This usually means "there's food, but I don't have the time or energy to cook," or "I don't know what to make from the ingredients available." Meal planning can take the stress and guesswork out of cooking. Think about meals a week at a time and buy the ingredients you need (all in one shopping trip) based on that plan. You can also make batches of meals in advance and freeze them. When dinnertime arrives, simply reheat and eat.
2. Don't Overspend on Meat
Choosing the perfect turkey is crucial for Thanksgiving dinner. But you don't have to pay a fortune for it. Around Thanksgiving, many grocery stores have specials or promotional offers for loyalty cardholders.
Don't be afraid of buying a frozen turkey instead of a pricey fresh one. Just remember to allow it time to defrost, about a full day of defrosting for every four to five pounds of turkey.
For the rest of the year, also look for less expensive cuts of meat. Try buying chicken thighs or whole chickens instead of boneless breast cutlets, or pork shoulder or brisket instead of steaks.
3. Consider Big-Box Stores & Small Local Stores
Sometimes you can save by shopping for food at other places besides the grocery store. Buying in bulk through your wholesale club can save you money, and you may be able to find a new family favorite that they don't sell at your local supermarket.

Some grocery sellers like your local food co-op may also offer locally sourced produce and a variety of dry goods and ingredients in bulk, letting you buy quality food more sustainably and affordably by relying on less packaging and transportation costs. Whether you go big or small, make sure you have the space and containers to store everything.
4. Shop Your Pantry
If you're looking for chicken stock and condensed milk for Thanksgiving or macaroni and cheese for tomorrow's lunch, check your pantry first. Chances are you may already have many of the ingredients you need. If you are running low on pantry staples like flour, noodles, peanut butter, or canned foods, create a list and look for sales or coupons. Then hit the store, stock up, and save.
5. Skip the Garnishes
Many recipes like to add fancy ingredients like macadamia nuts or dried cranberries because it helps set their version of pumpkin pie or turkey stuffing apart. Pound for pound, these special ingredients are the most expensive things on your shopping list. Don't be afraid to leave them out if they seem unnecessary and break your budget.
6. Organize Your Leftovers
One of the best parts of Thanksgiving dinner is that you can feast on turkey, potatoes, and stuffing for days afterward. You can apply the same approach to your regular weekday dinners. Unless you know that you're going to eat leftovers in the next two to three days, store them in your freezer to make them last. Try to plan a few dinners each week made up of leftovers. Give everyone a chance to pick and choose their meal based on what's available. It's fun and saves on cooking.
Feast Your Eyes on This Offer
Here at American Heritage, we're always looking for ways to give our members more for their money. That's why, just in time for Thanksgiving, we're making grocery shopping extra rewarding.

With our Cash Reward Mastercard®, you can earn 3%* cash back on supermarkets and wholesale clubs, plus enhanced cash back rewards in other categories too! It's a great way to put more money in your pocket over the holiday season, simply by making the purchases you'd make anyway.
---
*Offer available for American Heritage Credit Union Cash Reward cardmembers only: Earn 3% cash reward bonus for transactions at specific retailers. Retailer purchases are those made at merchants classified with selected merchant category codes. For a full list of merchant category codes, click here. See American Heritage Credit Union Cash Reward Program Terms and Conditions for more information about your rewards. We reserve the right to cancel, modify or extend this offer at any time without notice. Membership eligibility required. This credit union is federally insured by NCUA. All credit card accounts subject to approval. Member must be in good standing with a minimum of a $15 deposit in their Primary Share Account.