Having a Social Life – Even on a Budget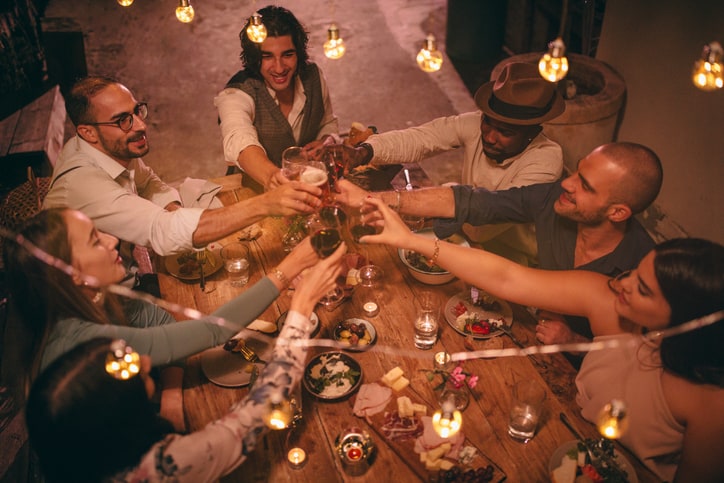 Evenings out with friends are always a good time. However, if those in your social circle have expensive taste, or you live in a pricey town, nights out can be a real budget buster. Whether you're sticking to a budget to afford a major purchase or trying to pay down debt, you may think it's impossible to both save money and enjoy a social life.
Don't worry. Your budget doesn't have to keep you from socializing. You just have to think about different ways to have fun with your friends. Remember, a budget isn't really about dollars and cents. It represents what you want from life. With that in mind, here are a few money-saving ways to have a great social life without going broke.
Eat Out for Less

It's not hard to overspend at a great restaurant. If you're not careful, you could blow a huge chunk of your weekly budget on one meal. But you don't have to. Here are a few ways to eat out for less:
Ask for Separate Checks: Ask your server for separate checks before anyone has ordered. This way, you won't have to worry about splitting a check when you've ordered chicken and a couple of your friends splurged on the surf and turf.
Order an Appetizer as a Meal: Apps are often big enough to fill you up – and come with a lower price than an entrée.
Go During Less Expensive Times: Brunch, lunch, and happy hours offer lower-cost menu options that will save you money. Often, these menus feature smaller portions of the same food than found at dinner, which means you'll get the same experience for less money.
Reduce Your Bar Tab: Instead of buying pricey specialty drinks, host an at-home cocktail hour. Or, choose a BYOB restaurant and bring a bottle of wine to share.
Go Out… Or Stay In
To spend less while socializing, try these easy ways to save money for night, day, or weekend events:
Attend Free Events Near You: Visit Philly lists events by day, month, and season. You'll love regional street fairs, music, and theater performances – all at low or no cost.
Volunteer: Festivals depend on volunteer help. In exchange for working a few hours at the event, you'll get in for free. Grab some friends and enjoy a unique, behind-the-scenes experience.
Get Discounts: Websites like Groupon or LivingSocial offer great deals on restaurants, events, and travel.
Stay In: Host a potluck, where everyone brings a dish to share. Theme nights that pair food and a favorite film are creative, inexpensive ways to connect with friends.
American Heritage Can Help
As you focus on the things that really matter – namely, your long-term goals – sticking to a budget is the best way to prevent overspending. American Heritage is here to help. We've got the tools and money-saving ideas to help keep you on track:
Our blog contains other money-saving tips to help you gain control of your financial future. Plus, American Heritage representatives are always available to speak with you personally to offer other great saving tips. Visit a branch today.
If you're looking for more free local events, we've got a few of our own. As an American Heritage member, you're invited to attend our Member Appreciation Day and Car Show and our holiday favorite, Grand Illumination. We hope to see you soon.