What to Consider Before Buying Your First RV, Boat, ATV, or Motorcycle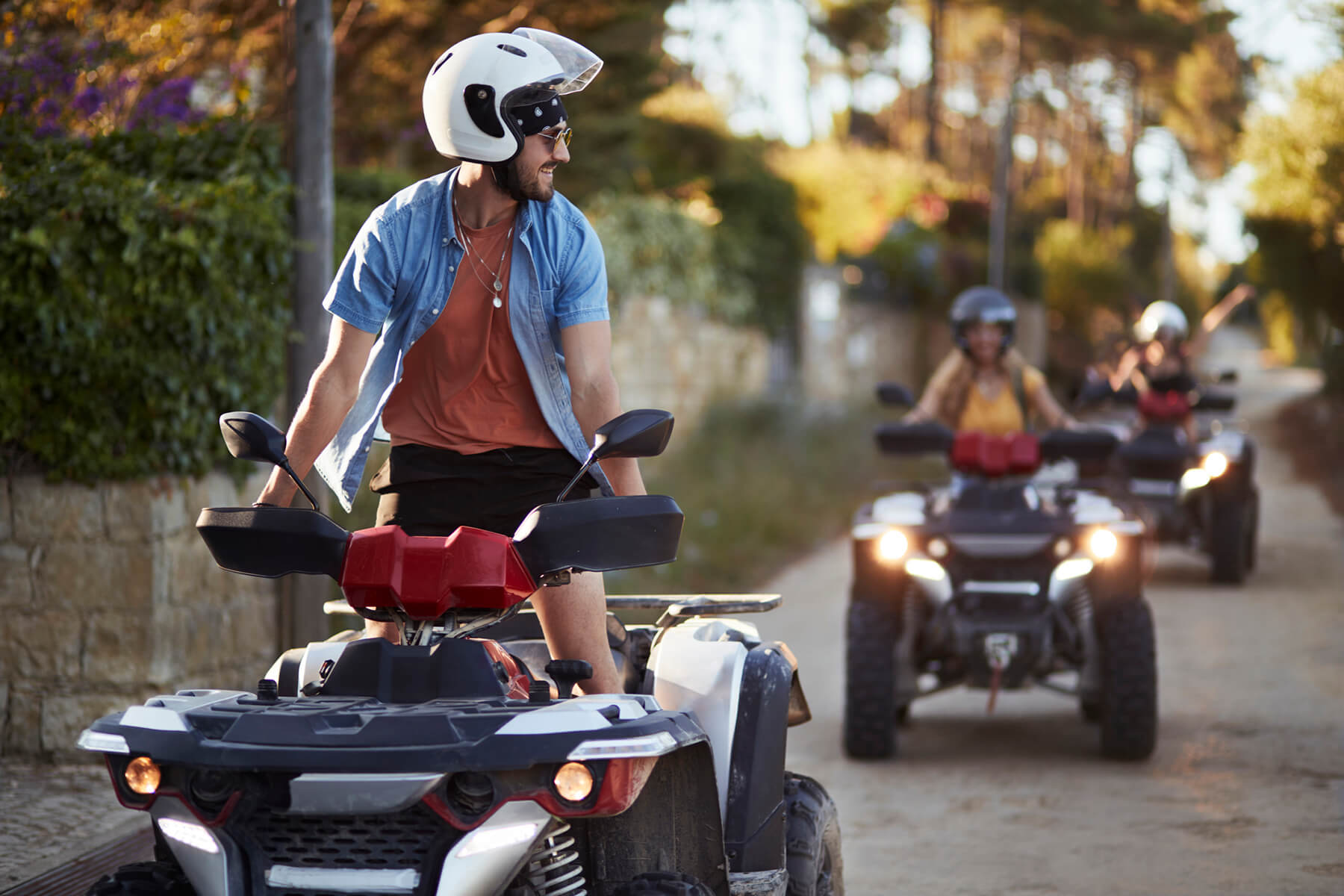 Nothing beats spending time in the great outdoors, but having the right equipment on hand can make each outing more fun and exciting. If you're thinking of buying your first outdoor toy – whether it's a boat, motorcycle, ATV, or RV – congratulations! It's a big step toward helping you and your loved ones have fun away from the TV.

But there's more to buying your first big toy than meets the eye. Here are a few tips to help you buy with confidence (and avoid buyer's remorse later).
Consider Your Destination
Before you start looking at different models and options, think about where you'll use this vehicle most often. For example, if you're considering buying a boat, think about the types of waterways you'll frequent most. This can help you determine whether a motor is necessary and what types of capabilities the boat needs so you can get the most out of each trip.

If you're buying a camper, think about where you'll take it. People that prefer to camp in developed campgrounds with full hookups for power, sewer, and water may need different RVs than those that prefer to camp in the wilderness. If you're interested in a motorcycle, think about how and where you'll ride.
Consider Your Budget
If you're planning on paying for a new boat, RV, motorcycle or ATV with cash, consider how much you have saved up for the purchase and narrow your search to models that fit your savings (also factoring in future costs, as discussed below). If you're thinking of paying for your recreational vehicle with a loan, apply before you start shopping. This way, you'll know how much you'll be approved for and can make offers with confidence as soon as you find a model you like.

At American Heritage, we encourage you to apply for financing before you head to the dealer. Our team will help you every step of the way from completing the application to helping you lock in one of our low ATV/power watercraft financing rates, motorcycle loan rates, or RV loan rates.
Be Mindful of Additional Costs
Of course, buying a boat or similar outdoor toy isn't the only expense you'll face. You also need to pay attention to the additional costs that come with owning your new toy. These are a few of the most common costs you can expect for each type of vehicle.
RVs – As an RV owner, you'll need a comprehensive insurance policy to protect your investment from the beginning. According to NADAguides, annual premiums can range from as little as $200 to more than $1,000 depending on the type of RV you buy and how you use it. You'll also have to pay for routine maintenance, campground fees, annual registration with the DMV, fuel to help you reach your destination, and storage fees if you can't keep the RV at your home.
Motorcycles and ATVs – You'll also have to pay for insurance coverage to protect your ride both on and off the road. Depending on factors like your state, the value of your vehicle, and how much coverage you opt for, a policy can run you a few hundred dollars to over a thousand per year. On top of insurance, you'll need to cover maintenance fees, fuel, the cost of any special licensing requirements, or training needed to help you earn the license.
Boats – Boats can be surprisingly expensive to own and maintain if you're not prepared. By some estimates, you could spend one-tenth of the boat's purchase price every year! That's because you'll need to think about expenses like a trailer, winter storage, gas, cleaning, annual maintenance, registration costs, and safety equipment. Though boat insurance isn't required in most states, it's still worth investing in as it protects you from out-of-pocket expenses should you get into an accident on the water.
Always View Models in Person
High-resolution images can tell you a lot about the features and nice touches for different makes and models that you're considering. But they won't tell the whole story and the number of details they highlight are limited by the photographer's skills and their desire to showcase their RV, boat, ATV, or motorcycle for sale.
Rather than relying on internet listings for information, try to view different makes and models in person. Walk around the exterior and make sure the finish is in good condition. Be mindful of rust and corrosion on the components and always ask to take the vehicle for a test drive if possible.
Get It Inspected
If you're buying anything used, consider getting it inspected by an experienced mechanic before you close on the purchase. Remember, some sellers may be tempted to overstate a vehicle's condition in their listings. Your mechanic will help you make sure you're not spending more than you should on the vehicle and can tell you if the vehicle is a worthwhile investment for your budget.
Research Your State's Rules
Depending on the state and vehicle, you may be required to get a special license or safety certification before you can use your vehicle. Check with the relevant agency in your state for specific requirements or ask a reputable dealership for information.
Stay Safe Out There
Insurance for boats, RVs, ATVs, and motorcycles is distinctly different than the coverage you have for your car, home, or apartment. And the insurance provider you use for those policies may not offer the best coverage for your new purchase. Take your time and compare your options from multiple providers.
American Heritage has partnered with trusted insurance providers to help members access the right coverage for many different vehicles as well as affordable GAP protection. If a vehicle you finance is totaled before the loan is paid off, GAP coverage will pay the difference between the insurance company's settlement and what you still owe on your loan.
As you start enjoying your new purchase, having the right coverage can give you more peace of mind when you hit the road (or trail, or lake).