Ask the Experts: The Contact Center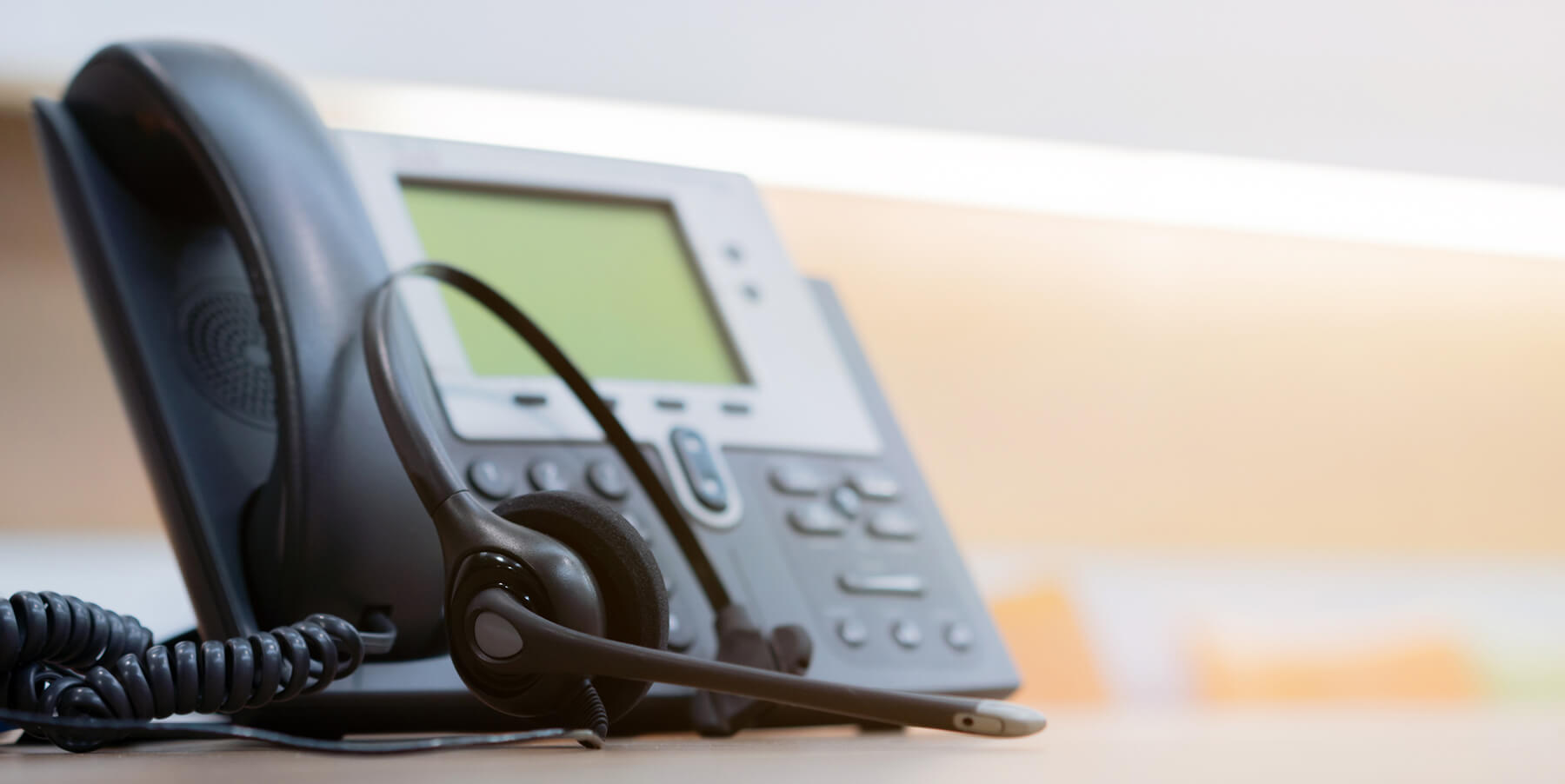 In this series, we take a look at the inner workings of the Credit Union and meet some of the champions who help our members in every facet of their financial lives. This month, we met up with expert Jen O'Brien, a leader in our Contact Center who strives to make communication as smooth as possible for our members.
Jen O'Brien
Assistant Vice President of Account Services and Contact Center
Has been with American Heritage for 11 years
Jen O'Brien is the Assistant Vice President of Account Services and Contact Center. She assists her department's Vice President with overseeing the operations of both areas. Her focus is to identify where we can make efficiencies in our daily operations so that we can better assist the membership. The Contact Center is a large part of her heart; she has been working in this area for 11 years now.
"I am proud to say that we were able to help members with their account inquiries and accessing their funds during the height of the pandemic. Through this experience, our member service teams were able to find creative ways to fulfill new membership requests without them having to leave the convenience of their home. The first step was offering the Online Account Maintenance forms, which allowed members to make modifications to their account without having to visit a branch. We also worked with the branch network by coordinating curbside assistance requests and appointments through our Better Lobby service to help control the traffic flow within the branches. Our newest addition, Video Advisor (VANA), took our service to the next level by allowing members to have the same branch experience but just virtually.
Although we were able to help the membership in so many different ways, our Inbound Contact Center had a significant increase in our volume. Our main priority was to help members navigate their finances through uncertain times. Because of the overwhelming volume, members often experienced a higher-than-normal wait time. Throughout the pandemic, we strived to not only provide our members with the answers they needed but also educate them on how to self-serve in the future."
What is the Contact Center? Who makes up the Contact Center?
The Contact Center is compromised of 4 different areas: PAT, Inbound, Concierge and VANA.
The Inbound team is our largest area. They assist members who are contacting us through multiple channels such as phone, Live Chat, email, fax, and secure messaging through the Online Teller/Mobile Teller platform. They strive to assist members with first-call resolution.
PAT is our second largest area in the Contact Center. This team assists members through our Personal Automated Teller machines, also referred to as PAT. They process transactions for members at our branches including our drive-thru and Shoprite locations.
Our Concierge team welcomes new members to the Credit Union. They deeply enhance the relationship with a new member, who may not be aware of all the services that American Heritages offers. For example, they will initially enroll the member into our eServices and provide recommendations such as the Investment & Retirement Center, insurance services and other loan options the member might qualify for.
Our newest team, VANA (Video Advisor Network Associates), helps members from the convenience of their own home. Users can apply for membership, business accounts, consumer loans and home loans through this service. This team also helps members with making account modifications and navigating our eServices.
What are the most common questions asked?
During the height of the pandemic, many members would call in to inquire about visiting the branch. Fortunately, our online queueing for pick-up requests and appointment scheduler were useful tools with helping members needing assistance for in-person inquiries.
Other common reasons for calls are assistance with card services, Mobile/Online Teller, transactional inquiries and loan payment options.
Card Services: American Heritage uses a Falcon Fraud Protection system that automatically analyzes all debit and credit card transactions. If any activity occurs that is unusual or suspicious in your account, Falcon Fraud may detect it and you will receive a phone call (from 855.961.1602) to confirm if the transaction is legitimate or fraudulent.
eServices: To reset a password, there is a self-service option within the app that does not require the Contact Center. For issues with the SecureNow service, make sure you update the phone number you have on file by using the Contact Information Update Online Maintenance Forms or VANA.
Loan payments: In the main navigation of our website is the Pay a Loan option, which allows members to use the QuickPay service to make a loan payment online.
Am I able to get in contact with an American Heritage Contact Center rep if I call after hours?
The Contact Center is available 8AM-7PM Monday through Friday and Saturday 9AM-3PM.
Your account can be accessed 24/7 through our eServices and Phone Teller. If you call outside of these hours, you can utilize our after-hours service, which can assist you with basic inquiries such as account information and transfers; however, all other requests will be referred to our Contact Center.
What services are people asking about that can be done via Online or Mobile Teller?
Many of the services that members inquire about can be completed through our Online or Mobile Teller services. You can view your balances and account history as well as transfer funds through these services.
Many members do not realize that they can use Online Teller to enroll into eStatements to receive their statement digitally rather than waiting for it to come in the mail. Ensure your pop-up blocker is disabled in order to access the statement.
You are also able to access your Membership Card on Online and Mobile Teller under the Member Services tab. This is important for members interested in setting up ACH transactions or electronic credits and debits, which require the full 13-digit account number.
Another great feature on our Mobile Teller is the Card Services option. Through this option, you can activate your Debit Card and cancel your ATM, Debit or Credit Card. You also have the option to restrict your authorization limit on your card. This can come in handy if you believe your card might be missing but want to check to see if you left it in a secure place such as your car, home, or office.
What essentials do you need VANA or the Contact Center for?
Members currently need to call in to file a dispute or complete loan payoffs. If there is a transaction you're unsure of and wish to discuss, or you need to send insurance information for a new auto or home loan, calling in to speak with a representative may help. Commonly, members wish to be walked through how Overdraft Privilege works and why it happened.
What must you go into a branch for?
There are certain instances when you might be referred to a branch if you are looking to obtain a cashier's check addressed to a third party or set up a Power of Attorney or an Estate Account; however, it is best to contact VANA to see if we can fully assist you from the convenience of your own home before making the trip to the branch.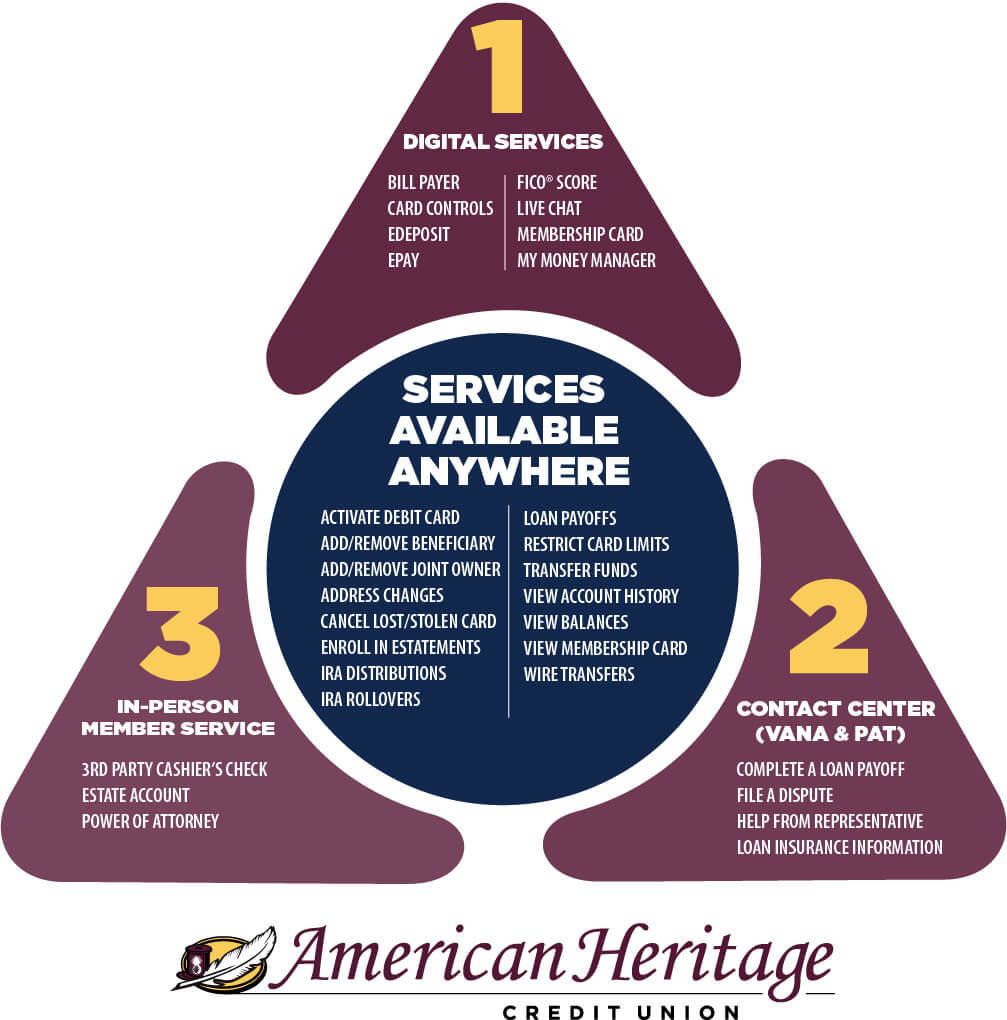 What can you use account maintenance forms for?
Online Account Maintenance forms can be used for a variety of different requests such as address changes, loan payoffs, wire transfers, IRA distributions and roll overs, etc. You can also add or remove a Joint Owner or Beneficiary though the online Account Maintenance forms.
These forms are completed via DocuSign, a fully electronic signature program. DocuSign verifies your identity through security questions, and ID can be uploaded if necessary. No need to print, scan, or email files — everything can be completed online in your computer's browser.
What other resources do you recommend members use to self-serve?
Our eServices and Online Account Maintenance forms enable a member to self-serve many of their inquiries through safe and secure channels. We are working towards enhancing these services in the future to provide more options online that do not require waiting on hold to speak to a representative.
Our website is also a valuable tool for members looking to educate themselves and self-serve. Resources like The Learning Center, our blog, webinar signups, and more are available at you fingertips to learn from your own home!