Looking for Ways to Help During COVID-19?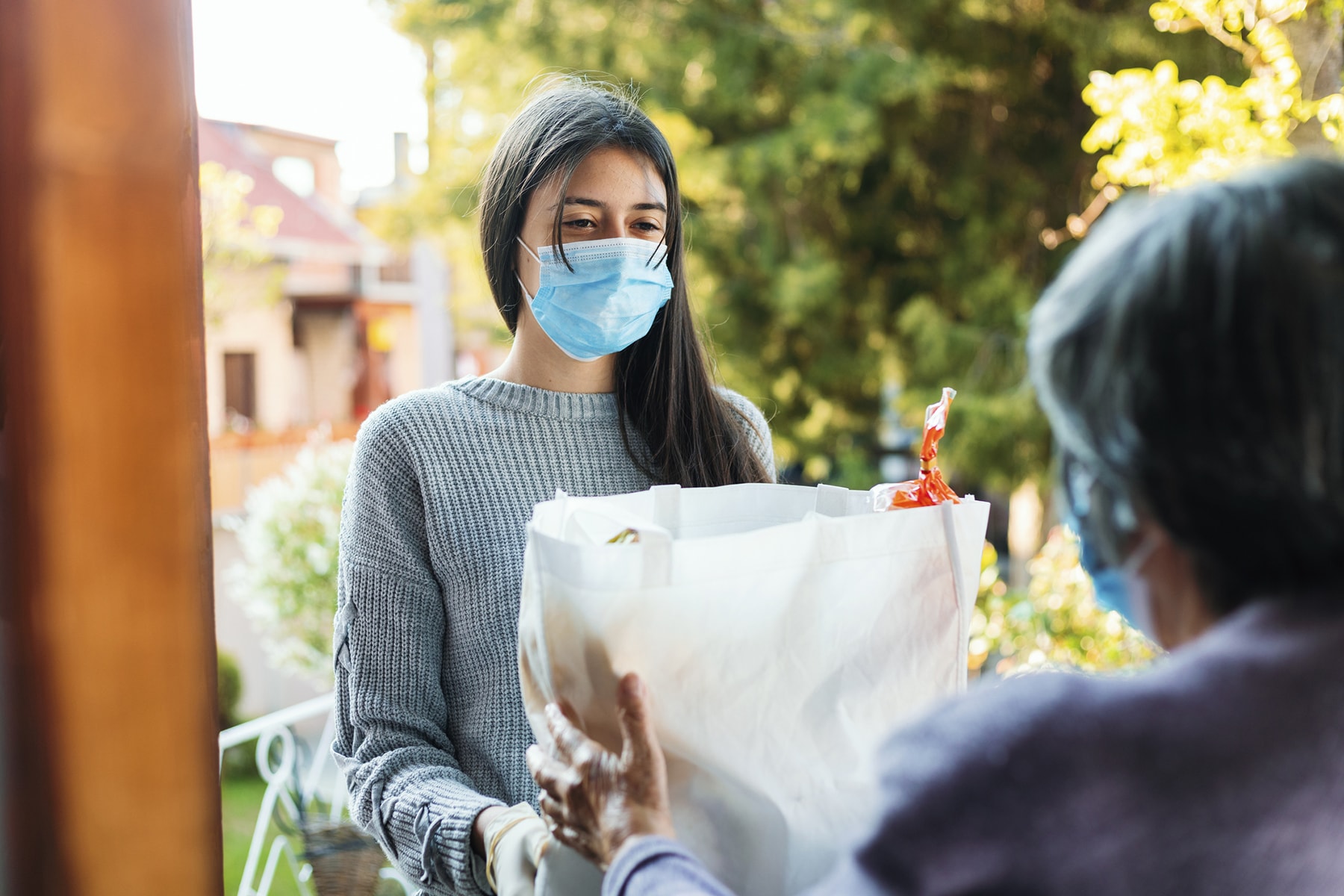 It's easy to feel frustrated and disconnected by the new challenges and safety guidelines surrounding COVID-19. For many of us, that makes us want to find ways to help and support our community. While there may be temporary limitations to our ability to get out of the house and do all the things we used to do, there are still plenty of ways that we can help our neighbors and community. Here are eight ideas to get you started.
1. KEEP YOURSELF HEALTHY
One of the best ways you can support your community is to protect yourself. Follow the COVID-19 safety guidelines of the Centers for Disease Control and Prevention (CDC), as well as rules in place in your state and local community. Stay home when you can and take steps to support the health of both your body and mind. When you do go out, follow regulations about social distancing and wearing masks in public, wash your hands and use hand sanitizer frequently, and avoid contact with surfaces in public places. When shopping, you can pay more safely by using the mobile wallet on your smartphone to make contactless payments, which lets you avoid touching PIN pads and screens at checkout.
2. REACH OUT TO OTHERS
Following recommendations for social distancing doesn't mean you can't be a good neighbor. Check on your neighbors, friends, and family. Connect by phone or online, or talk to them from the stoop, especially if they're older or have health concerns. See if they need help getting groceries, picking up prescriptions, doing yardwork, or completing other tasks you can do while maintaining social distancing. Even just a friendly voice can make all the difference.
Not sure where to start? Get involved with your neighborhood Facebook group or contact your neighborhood association. Local civic organizations, places of worship, or other organizations may be able to connect you with those in need of a helping hand or a friendly voice.
3. VOLUNTEER
You may be wondering, "Are there any volunteer opportunities near me?" While many organizations aren't currently operating as they normally would, there are still many volunteer opportunities available that allow you to help while staying safe. One big way to help is delivering meals to the elderly and people with special needs through organizations like Meals on Wheels.
If you want to contribute your time or special skills, Volunteer Match lists a wide range of opportunities that you can search by zip code.
4. DONATE
In uncertain times, one of our deepest needs is to feel that we can give something back financially to help others. Here are a few places where you can make a donation to support your community.
Philadelphia COVID-19 Response Fund
On March 19, the city announced a partnership with area foundations and businesses to create the PHL COVID-19 Fund to help area nonprofits serving people in need. Backed by organizations including the United Way, Philadelphia Foundation, William Penn Foundation, and others, the fund is accepting donations as low as $25, 100% of which will go to nonprofits.
Hospitals
One of the Philadelphia area's greatest assets is our network of world-class hospitals and healthcare systems. Area hospitals are the front line in the fight against COVID-19, and many hospital employees have made great sacrifices to serve our community at this time. But they're often facing shortages of personal protective equipment (PPE) and other resources needed to continue serving patients safely.
Many hospitals are accepting donations of purchased or homemade PPE, medical supplies, and unopened cleaning products and hand sanitizer. Visit the website of your local hospital or hospital foundation to see how you can help.
Food Banks
With record levels of unemployment, many of our area's food banks and other meal services are experiencing overwhelming demand. Organizations like Philabundance need donations to help meet the needs of the community.
5. GIVE BLOOD
Donated blood has a limited shelf life, and medical centers are facing constant shortages of blood, platelets, and plasma. To get started, visit the website of the American Red Cross or download the Red Cross app for your smartphone.
6. SUPPORT LOCAL BUSINESSES
Before you visit your local big box store, look for opportunities to support local businesses. More and more local businesses are open in some capacity, whether through traditional in-store services, online orders, take-out, or curbside pickup. You can also support your favorite local businesses by buying gift cards to use later, which gives them much-needed revenue now.
7. SUPPORT COMMUNITY RESTAURANTS
Local and family-owned restaurants have been particularly hard hit by today's challenges. Support your community restaurants by getting takeout, buying gift cards, and always leaving a generous tip.
8. THANK ESSENTIAL WORKERS
Finally, make sure to thank the essential workers like grocery store employees and postal workers as well as the doctors, nurses, first responders, and hospital staff who continue to work hard while facing greater risks on the job.
HOW WE'RE SUPPORTING OUR COMMUNITY
At American Heritage, our community is at the center of everything we do. To help support the many hardworking healthcare workers in our area, our employees came together to deliver 50,000 PPE facemasks to 14 community partner hospitals, and we're still working hard to give back to the community we call home.