13 Tips on How to Decorate Your House on a Budget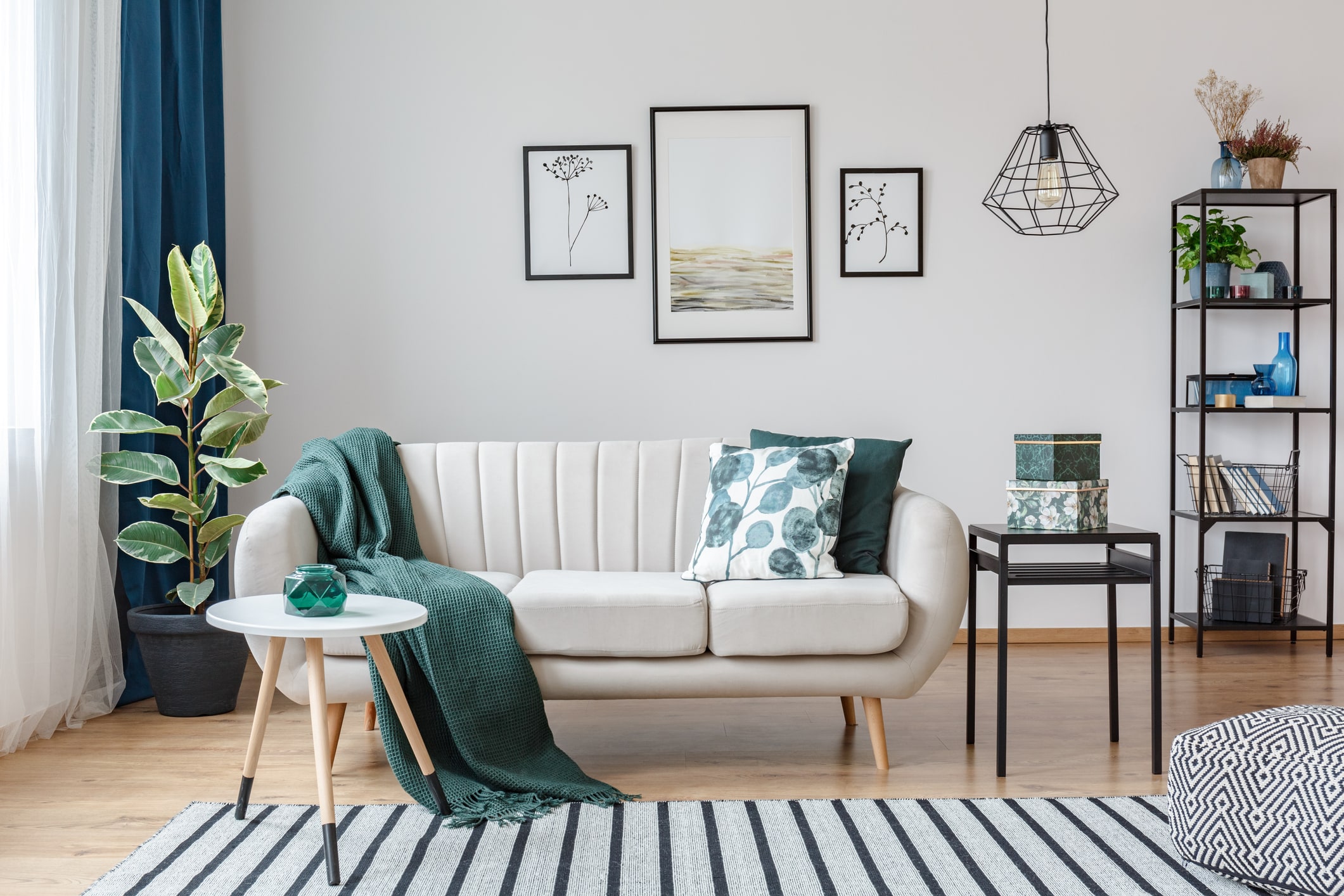 Whether you are a first time home buyer or just want to freshen up your current house, decorating a home can be exciting, inspiring, and often times, expensive. The good news is that if you plan ahead and follow some of our budget-friendly tips below, you can continue to pinch your pennies and still turn your house into a Pinterest-worthy home.
1) Consider a "Newbie" Interior Designer
Buying your first home can be overwhelming, and you may be wondering where in the world are you supposed to start when it comes to decorating? Unfortunately, hiring an experienced interior decorator typically comes with a hefty price tag. If you can't afford the most popular interior designer in town, another strategy is to look for an interior designer who is just starting out and is in need of examples for their portfolio—meaning they'll most likely be much more cost effective. Try asking friends, family or your realtor for recommendations.
2) Incorporate a Theme
If you strike out on finding an interior design that fits within your budget, don't fret, there are still designer tricks that you can incorporate. For example, one way you can channel your inner design skills is by selecting a theme for a room. For example, a nautical themed room is a great start with lots of options. Still unsure on where to begin? Check out these Pinterest inspirations.
3) Buy or Create Your Own Wallpaper
Wallpaper is still very much a popular trend, and a great option to update any room. Luckily for today's first time home buyers, there are many options—from high-end to affordable. If you don't want to fool with buying with wallpaper, and you enjoy DIY projects, gather your stencils and make your own! Here's a step-by-step guide from Do It Yourself.
4) Update Your Faucets
Updating your faucets may seem like a small update, but you'll be amazed at the difference a new faucet can make for a kitchen or a bathroom. If this is your first home and you are apprehensive about any updates that involving plumbing, there are number of how-to videos that will walk you through the process, like this one from Home Depot or this video from the DIY Network.

5) Upgrade Your House Numbers
Regardless if you're a first time home buyer or not, there's one thing that all homeowners strive to achieve: curb appeal. One budget-friendly way to enhance your curb appeal is picking out some new house numbers. In this case, a small purchase can go a long way.
6) Incorporate Greenery
Sprinkling in some plants throughout your home has many advantages. For starters, "greenery brings beauty, character, texture and good energy into every space" (Brit + Co). Added bonus? Your local nursery will most likely have some good, affordable options for gardeners of all levels (no green thumb required!). If you're looking for more inspiration, check out this Brit + Co post on 25 Unexpected Ways to Decorate with Plants.
7) Have Fun with Chalkboard Paint
From refrigerators to a stove backspace, chalkboard paint can be applied just about anywhere in your home. Plus, it's even more appealing to first time home buyers because it's cheap to buy—starting at $14 per quart. For more ideas on ways you can incorporate chalkboard paint, read this post from Buzzfeed featuring 33 Things You Can Turn Into Chalkboards.
8) Boost Storage
When you first move into a house, it often seems like there's PLENTY of storage—especially if this is your first home. But as we're sure you're quick to realize, storage spaces always seems to become occupied way too fast.

If you can relate, one of our favorite ways to increase your storage is by adding shelves throughout your home. Incorporating shelves, from your kitchen to bedroom, can not only help add a little personality and depth to your living space, but can provide areas for valuable storage, especially if you save space for boxes and other storage friendly items on your shelves. And if you're feeling even more inspired, try to "embellish plain shelves with decorative brackets" ( Better Homes & Garden).
9) Spot the Sales
Do you have your heart set on a high-priced item that you just want live without? If yes, set a plan to buy it at the best possible time, a.k.a when it's on sale. Sites like, Shopstyle, are a great resource for setting up sales alerts for items you have your heart set on.
10) Incorporate Crown Molding
Ah, crown molding—a typical decorative finishing that delivers an old-home charm, as it helps with the transition from wall to ceiling and makes any room feel less boxy. Depending on the year your home was built, crown molding may have been left off the home builder's list of to dos. Don't fret, you can still add this desirable feature, at a relatively low cost and in a short time frame. If you're feeling inspired and have no plans for your weekend, consider following this tutorial on "How to Create Faux Crown Molding."
11) Look for New Throw Pillows
If you can't afford a new couch or entire new bedding set, try freshening up your look with a new set of pillows. Incorporating updated throw or accent pillows to a room, can help refresh the entire look of a space.
12) Check Facebook for Deals
From specific neighborhoods to a cowboy enthusiast Swap and Shop, there's practically a Swap and Shop (or similar groups with the same function, i.e. Nextdoor) for just about everyone. Unfamiliar with a Swap and Shop group concept? In short, it's a Facebook group where members (i.e. residents in the same zip code) can post items to sell/buy—kind of like an alternative to eBay and with your neighbors. The beauty of these groups for first time home buyers is that you may be able to find some great deals on second hand items that could be just blocks away.
13) Take Your Time
We get it. You're a first time home buyer and have just moved in, so you want everything perfect, decorated, and to be party-hosting ready. While it may be painful, slow down, and take your time to find the items that are perfect for your new space. In one of our favorite BuzzFeed posts, 18 Practical Home Decor Tips For Anyone On A Budget, #1 on the list says "Remember that you don't have to buy everything all at once: it'll help you both stay in budget and put together a room you love."