4 Strategies to Keep Your Information Safe and Organized in the Digital Age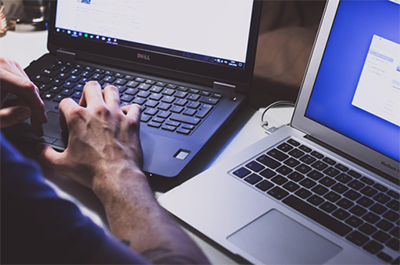 At the core of American Heritage's mission is the commitment to enhance the lives of our members by building trusted relationships. One of the ways we do this is by educating our members on financial news and other potential factors that may impact their financial health. That's why, we've focused the following blog on the very timely news regarding the state of financial security in today's digital age, along with a few recommended strategies on how our members can keep their information safe.
To start, let's take a look at the numbers, specifically when it comes to identity and data protection for today's consumers. Unfortunately, the news isn't great—since, it's estimated that "some 15.4 million consumers were victims of identity theft or fraud last year, according to a new report from Javelin Strategy & Research." This number is "up 16 percent from 2015, and the highest figure recorded since the firm began tracking fraud instances in 2004" (CNBC). Despite these grim numbers, the good news is that there are steps you can take to better protect your identify and secure your information. Check out the below list for ideas on where to get started.
4 Strategies to Keep Your Information Safe and Organized
Use and Safely Store Strong Passwords
Hint: Using "password" or "123456789" are not the best choices when it comes to selecting a password (see how these and others rank among the list of the 25 worst passwords via Slate). Instead, be sure that you are using strong passwords and have a process for safely storing them, i.e. not on a Google spreadsheet. See below for a few additional password tips from Lifehacker:

Don't use common phrases
Makes the password very long, and numbers, characters and symbols
Use different passwords, never replicate the same one

Review your statements. Often.
According to the Financial Industry Regulatory Authority, FINRA, it's critical that you review ALL financial statements, from your bank to credit cards statements. The reason? You want to ensure that all withdrawals were authorized by you, and are not fraudulent items (be diligent, and be sure to not overlook small transactions), and that all of your contact information is correct. If you do "see a mistake on your statement or do not receive a statement, contact your financial institution or credit card issuer immediately and follow-up in writing, where necessary" (FINRA).


Be Smart When Browsing Online
From shopping online to secure WiFi connections, be smart when it comes to how you browse the internet. For example, if you're looking to buy that new pair of shoes you've been eying, do a quick check to make sure the vendor has a secure website connection, meaning that their URL starts with "https" not "http"—a small difference, that can equal a huge difference between a secure versus non secure transaction.


Keep Your Computer Secure
Another good line of defense when it comes to protecting your identity and financial information is to ensure that your computer is secure. How do you accomplish this? A first, and important, step is to make sure that your operating system and security software are both up to date (and that they are set for automatic updates). Keeping your computer up to date with the latest software will help deter potential hackers who are lurking and attempting to steal your personal information.
For more tips or ideas on how to protect your identity and personal information, contact a member of the American Heritage team and we'd be happy to chat with you further.