Buying a Home With a VA Loan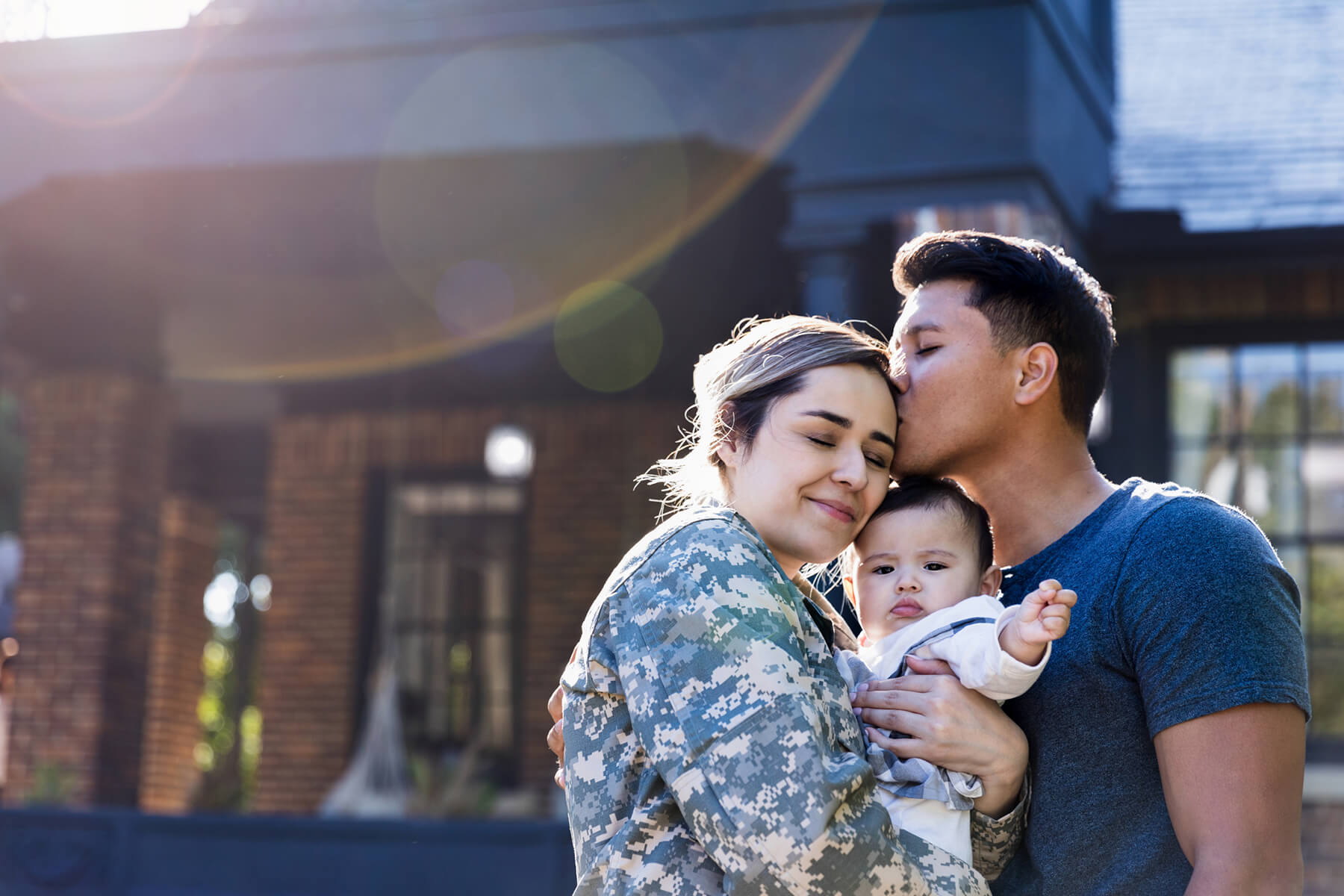 On Veterans Day, and throughout the year, we're grateful to the many veterans and active-duty military members who've dedicated themselves to protecting our country. We can't thank you enough for your service — and we want to support you as you plan your next move.

For many veterans and military members, that may include buying their first or next home, or refinancing the one they've got. And the VA loan program — a valuable part of your VA benefits — could be a great way to get there.
What Exactly Is a VA Loan?
The VA loan program offers a type of government-backed mortgage loan to qualified current and former military members and eligible spouses. The loan itself is issued by private lenders like your local credit union.

A portion of the loan is guaranteed by the Department of Veterans Affairs, which allows lenders to offer especially attractive loan terms and features that could make it easier to buy your place.
No Down Payment: Unlike for most mortgages, eligible borrowers can borrow up to the full purchase price of the home, so they don't have to worry about setting aside lots of money for a down payment.
Affordable Rates: Competitive VA loan interest rates could help you pay less over the life of the loan.
No Private Mortgage Insurance (PMI): With conventional mortgages, you'll need to buy PMI unless you have a down payment of at least 20% of the home's purchase price. VA loans don't require private mortgage insurance.
Fewer Closing Costs: When you buy a home with a conventional mortgage, you can expect to pay thousands of dollars in closing costs before you can get the keys to your home. With a VA loan, you'll pay fewer closing costs, as the Department of Veterans Affairs limits what lenders can charge you. (However, bear in mind that many VA loans do come with a significant upfront funding fee, but this can be rolled into the loan.)
If you're in the military or a veteran, a VA loan certainly isn't your only option, but the benefits and flexibility this mortgage can provide could make it a great choice.
What Can I Do With a VA Loan?
If you meet the VA loan eligibility requirements, you could use one of these loans to:
Buy a new home with up to 100% financing.
Buy and fix up a home using a VA renovation loan.
Refinance your current VA loan to lower your interest rate or switch from an adjustable rate to a fixed rate.
Pull cash out of your home equity using a VA cash-out refinance loan to refi your current conventional or VA loan.
Who Is Eligible?
You'll need to meet the VA's eligibility requirements to secure a VA loan. These loans are available to:
Current active-duty military members and veterans who meet the VA requirements for length of service, and
Eligible surviving spouses of military servicemembers who died on active duty or because of a service-related disability.

Though the Department of Veterans Affairs guarantees the loan, you must also meet the lender's own credit score, income, and debt-to-income (DTI) requirements. VA lenders aren't all the same; some may offer access to more loan programs or better options for borrowers with weaker credit.
What Are the Limitations?
To qualify for a VA loan, you'll need to be buying a home that is VA-approved, and that you will use as your primary residence (not an investment or vacation property). You can choose from many different types of VA-approved homes, including traditional single-family properties, manufactured homes, townhomes, and condos.

The property will be evaluated by a VA-approved appraiser and must meet the VA's Minimum Property Requirements (MPRs). The property must be in good, livable condition. That doesn't mean it has to be perfect – you're free to buy properties that need a little TLC. But they should have functioning plumbing, electrical, and heat in place. The structure must also have a roof that's in good condition and windows that aren't cracked or broken.

Tip: It's a good idea to work with a real estate agent who is experienced with the unique requirements of the VA loan program.
How Do I Apply for a VA Loan?
You'll need to apply for a Certificate of Eligibility (COE) through the VA's eBenefits portal. Once you have the COE, it's a good idea to turn to a community-based lender that's experienced with VA loans. Discuss your goals, explore your loan options, then apply for pre-approval.

At American Heritage, our mortgage experts will walk you through the whole VA loan process, from application to closing. It's always our privilege to support the homeownership goals of veterans and military members in our community, so don't hesitate to reach out with any questions you may have about VA loans.