Make Deposits Anywhere With Mobile Check Deposit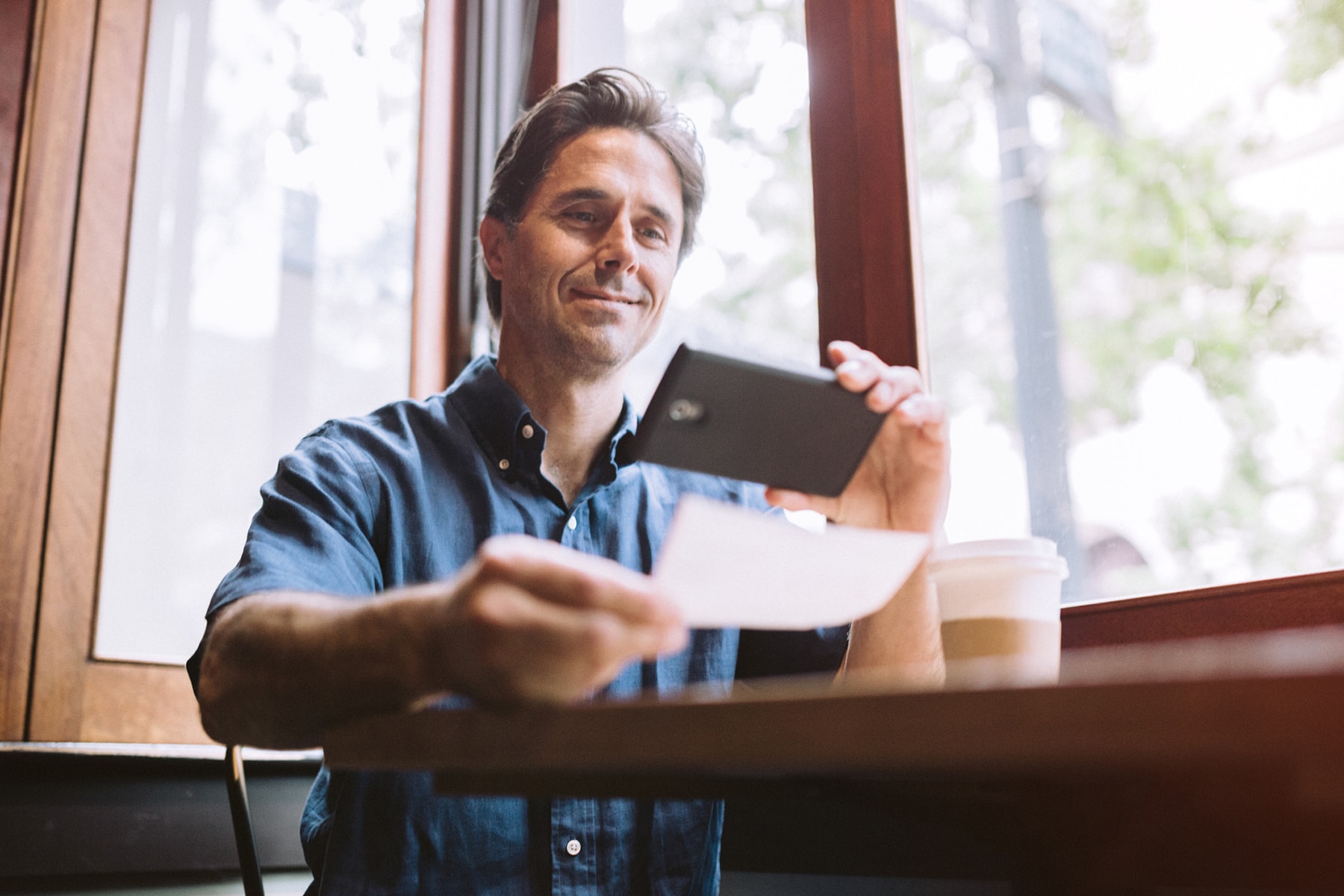 In the last few years, mobile check deposit has become a must-have mobile banking tool for users of every age. It's easy to see why: This powerful mobile banking feature lets you avoid extra trips to a branch or ATM by giving you the freedom to make deposits on your schedule, and you can make deposits anywhere you have an internet connection.
Here at American Heritage, we want to make your day-to-day banking as convenient as possible – particularly at a time when visiting a branch may be less convenient than it used to be. That's why our free Mobile Teller App* comes with eDeposit** — a simple way to scan paper checks from your smartphone and deposit them directly to your account.
If you haven't tried this popular banking tool, now's the time to give it a shot. It helps you save time, get money to your account sooner, and avoid misplacing or forgetting about your check before it's been deposited. Plus, eDeposit transactions are protected by the same level of encryption as our other online and mobile banking services.
Use eDeposit in 5 Easy Steps
First, if you haven't already, download the American Heritage Mobile Teller App from the Apple App Store or Google Play Store. Open the mobile app and log in using your Online Teller login credentials or register as a new user.
Once the app is set up, you're ready to make deposits.
1. Select eDeposit
Choose the eDeposit option from the app's menu. You'll need to read and accept the Terms and Conditions.
2. Select Your Account
You can deposit to any checking account or savings account accessible through the app. If there's an account you deposit to regularly, set it as your default.
3. Sign Your Check
Sign the back of your check and write "Mobile Deposit Only." Some checks have a box you can check off that reads, "Check here if mobile deposit." Also, write the date below your signature.
4. Take a Picture
Use the camera on your smartphone to take pictures of the front and back of your endorsed check. The app will take it automatically when the check is in focus. You can also select the camera icon to take the picture yourself.
5. Confirm and Deposit
Once the images are captured, confirm that they were uploaded correctly and verify the check amount. Then select Deposit. You will receive a deposit confirmation email.
Questions About eDeposit?
When you're trying out a new banking tool, it's perfectly normal to have questions. Below are answers to some of the most common questions we hear about eDeposit – and you're always welcome to contact our team with any other questions you may have.
How Do I Get a Clear Picture of the Check?
To ensure a clear image, follow these tips:
Place the check on a dark, plain surface in a well-lit area.
Hold your phone directly over the check, not at an angle.
Keep the check as clean as possible, with minimal wrinkles or smudges.
Make sure the routing and account numbers and the numerical version of the check amount are in the frame and unobscured by handwriting.
When Will My Funds Become Available?
When you make your deposit, some of the check amount may be credited to your account immediately. The full amount will be available once the check clears (usually within a couple business days).
What Should I Do With My Deposited Check?
Write "Deposited" or "Processed" on the deposited check and keep it in a secure place for 60 days, then destroy it.
Are There Deposit Limits?
Yes. At American Heritage, non-business members can deposit up to $2,500 per day and $5,000 per 30-day period. There are also limits on the number of individual checks you can deposit within one day or one 30-day period.
Our eDeposit Agreement has more information. If you need to make larger check deposits, one of our friendly Member Service Representatives can help you at your local branch or PAT machine.
Take Advantage of an American Heritage Checking Account Today
Check out our available checking accounts and choose the one that best suits your needs. Enjoy free online checking, free Bill Pay services, access on your mobile device, and other great perks.
---
*Internet service provider fees and 3rd party fees for message and data plans may apply.
**The eDeposit application is available to qualified members only.