More than a Machine: Meet PAT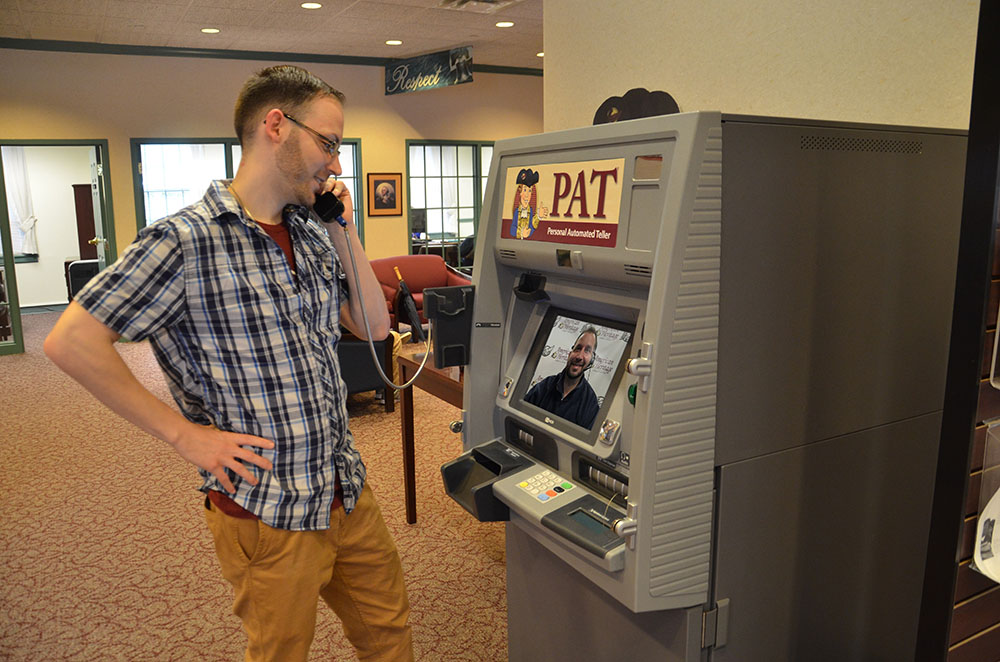 During a recent branch visit, you may have been asked to try the PAT (Personal Automated Teller) machine, a device that resembles an ATM but has a live Teller connected to it. Whether you decided to try it or not, you may have lingering questions about the machines and wonder why we've added them into our branches.
We sat down with the experts here at American Heritage on all things PAT, Meg Kenny (PAT Supervisor) and Alicia Jordan (Assistant Branch Manager), to get answers directly from the team behind the machines. When you use a PAT machine at one of our branches, you will have the pleasure of speaking directly with Meg, Alicia or one of their local team members!
What is PAT able to do?
Because a PAT machine is able to function both as an ATM using your ATM or debit card, and as a standard teller, it is capable of performing a variety of tasks. You can use a PAT machine for cash or check deposits and withdrawals, transfers, loan payments, and savings or checking account reviews.
Unlike a standard ATM transaction, for cash withdrawals, you can even specify the denomination of bills you'd like to receive. Consumers and business owners alike tell us how helpful this is!
What requires a branch teller?
If your transaction is less straightforward or involves lengthy conversation, consider speaking directly with one of our member service representatives in the branch. For cashier's checks, money orders, coin slips, or shared branching needs, one of our in-branch Member Service Representatives will be happy to assist you!
How does PAT benefit the members?
By allowing members to skip the teller line or complete simple transactions separately, PAT machines cater to diverse membership needs. If a branch experiences a sudden rush, a PAT Teller can be immediately added to the staff as needed.
As technology advances, many people grow accustomed to new ways of doing the same tasks. For example, the availability of video conferencing has skyrocketed due to laptop webcams and smartphones, creating opportunities for everyday business use. Popular retailers such as Wawa, McDonald's and grocery stores are finding ways to help their customers perform their transactions in a quicker manner. American Heritage as a financial institution, then, is following suit.
We want to provide as many options as we can to meet changing member preferences.
How does PAT benefit the employees?
Every PAT Teller features an American Heritage employee, stationed right here at our local headquarters in Philadelphia. Since the demand for PAT has increased, we have fortunately been able to hire more employees and even double the size of some teams! In addition, employees are granted the opportunity to be more adaptable and meet a wider range of members throughout the branch network to better understand the needs of individual areas.
How does PAT benefit the credit union?
On a broad scale, the PAT machines allow for new opportunities at our branches. We are able to shift our focus from daily transactions to helping our members with their finances on a more consultative level. The small footprint of the PAT machine also allows us to reach new locations and provide more convenience to our membership, without sacrificing the personalized American Heritage service you're used to.
Does PAT offer private transactions?
We want you to feel secure while you're performing your transaction, so we have taken several steps to defend your information and enhance your privacy. If you feel comfortable making a transaction at a teller line, PAT has many of the same security features, and more! The audio and visual information displayed are designed to be accessible to the current user only and identification is required for certain transactions.
PAT machine technology has been evolving at American Heritage for over a decade and we always have your privacy in mind.
Will someone help me use PAT?
Absolutely! If you feel unsure or have questions, a Member Service Representative will be glad to help you. Even if it takes a few times for you to get the hang of, using the PAT machine will become second nature, just like many of our members experience at other institutions and retailers. If you've never tried it before, we encourage you to test it out during your next branch visit, and let the staff know what you think!
So, to summarize, while PAT machines may seem like a change in your member experience, many of our members are pleased that we have added this channel to our already-convenient branch network. We welcome you to give PAT a try – and maybe you'll even get to say hi to Meg or Alicia!