The History Behind 3 Famous Philadelphia Foods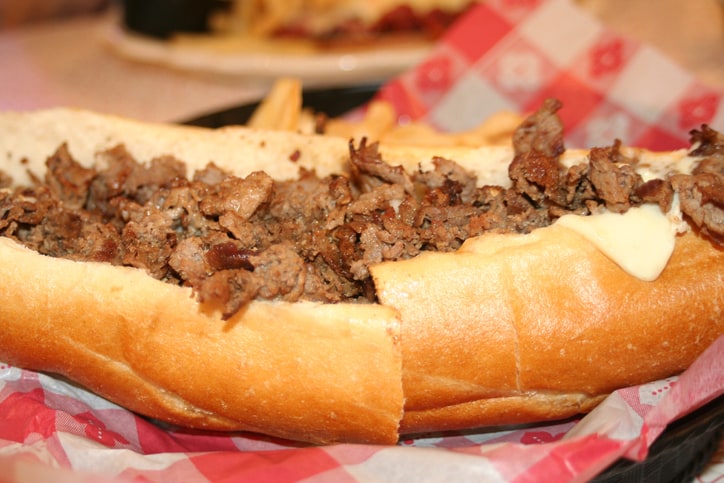 Philadelphia is known for its sweet, salty, and savory foods. From tomato pies to butterscotch krimpets and " wooder" ice, Philly certainly has a way of satisfying the food cravings you didn't even know you had. It's possible to go an entire day eating a famous Philadelphia food at every meal, sampling historic well-known restaurants and small vendors alike. While you've certainly enjoyed one of the following treats (if not, get to Philadelphia ASAP!), have you ever wondered about the history behind them?
Soft Pretzels

There is a lot of mystery surrounding the origin of the pretzel, with multiple cultures claiming the food but no solid historical evidence proving they were the first.
One of the more common origin stories dates as far back as the fifth century, in a Vatican Manuscript called the Vergilius Romanus. Pretzels were a Lenten food made of water, flour, and salt, twisted into "little arms" (bracellae). Other accounts accredit a monk living in Southern France or Northern Italy, who twisted leftover bread dough into a similar shape in 610 CE. At the time, these treats weren't called pretzels, but rather pretiola, or "little reward[s]." The German word for the food, Brezel, is believed to come from either of these names.
Frequently associated with the Pennsylvania Dutch (from Deutsch), historians believe the pretzel was brought to America by immigrants on the Mayflower. However, the first commercial pretzel bakery didn't appear until 1861 in Lititz, Pennsylvania. Julius Sturgis, youngest of 14 siblings, ran the bakery practically until his death in 1976. He told stories of his father, who developed the recipe from one given to him by a vagrant in exchange for a meal. Using that same recipe today, Julius Sturgis Pretzel Bakery is still open and available for tours.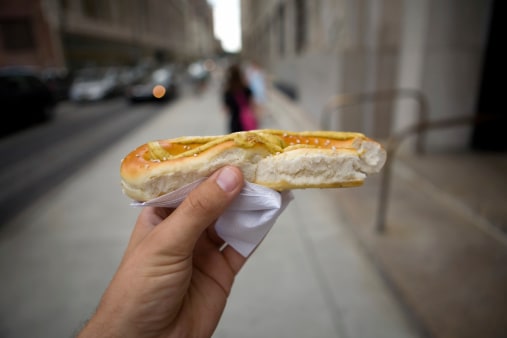 One of the bakery's former owners, Barbara Tshudy, claimed that the Philadelphian method of eating pretzels with mustard started in the 1920s when pretzels were sold from hot dog carts. The mustard hides the pretzel's imperfections from the salt on hot days.
Hoagies

Yet another Philadelphian food with a debated origin story is the hoagie. Not only does the name for a submarine sandwich differ depending on region, but the northeastern United States in particular loves its colloquialisms. New York calls it a hero, Louisiana calls it a po'boy, Boston calls it a spuckie, but to us, it will always be a hoagie.

One story in the Philadelphia Bulletin claims the name originated from a World War I shipyard called Hog Island, located near the present-day site of Philadelphia International Airport, where emergency ships were produced. Italians working on the island put meat, cheese, and lettuce on bread, which became known as the "Hog Island sandwich," then "hoggies," settling on "hoagie."
A second source, the Philadelphia Almanac and Citizen's Manual, says that early-twentieth-century street vendors called "hokey-pokey men" originated the sandwich. They sold antipasto salad, meats, cookies, and buns, and later cut a pinafore loaf in half, filled it with antipasto salad, and created the hoagie.
Most other origin stories are difficult to historically verify because they center around slang or idioms, such as someone desperate being "on the hoke" or a "hoagie" being another word for a hobo. Many hoagie restaurants battle for the title themselves, claiming to have originated the beloved sandwich and its equally beloved name.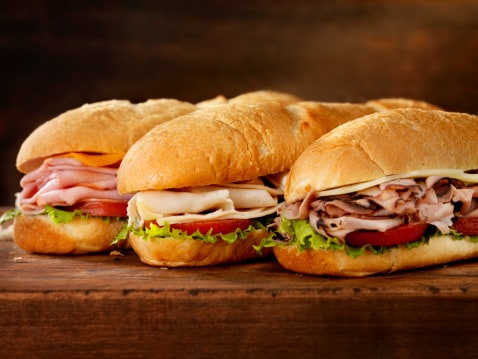 After World War II, the spelling of the word hoagie was finalized. "Hoagie" and "hoagy" dominated over "hoogie" and "hoggie," and by 1955, the modern version stuck.

Cheesesteaks

What would Philadelphia be without the cheesesteak? The iconic sandwich has even gotten its own festival in recent years, allowing visitors to sample cheesesteaks from vendors all striving to be the best. The sandwich is known around the country as the "Philly cheesesteak," but who invented it?

While many restaurants and families try to claim the sandwich, the cheesesteak is most commonly credited to Pat and Harry Olivieri, who sold chopped steak on an Italian roll in the early 1930s. The story goes that Pat and Harry owned a hot dog stand and made a new sandwich with chopped beef and grilled onions. A passing cab driver saw Pat eating the sandwich and wanted to try it himself. When he was finished, he was so impressed that he suggested that Pat stop selling hot dogs and focus entirely on the new steak sandwich. Heeding his advice, they sold the sandwiches near the South Philadelphia Italian Market, which became so popular that Pat opened up his own restaurant, still open today, called Pat's King of Steaks.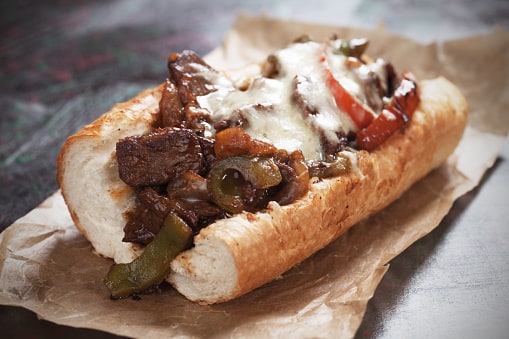 Wit or witout? The original steak sandwich was not a "cheese" steak at all – that addition came about when Joe "Cocky Joe" Lorenza, manager at the Ridge Avenue location, added provolone cheese into the mix.
A City of Culture and Food
With dozens of food festivals headed to Philadelphia this summer, now is the perfect chance to plan your trip and try some of the local delicacies. Impress your friends with your newfound foodie knowledge and settle the Pat's versus Geno's debate once and for all — we won't judge, as long as you don't order a "grinder."