How to Entertain on a Budget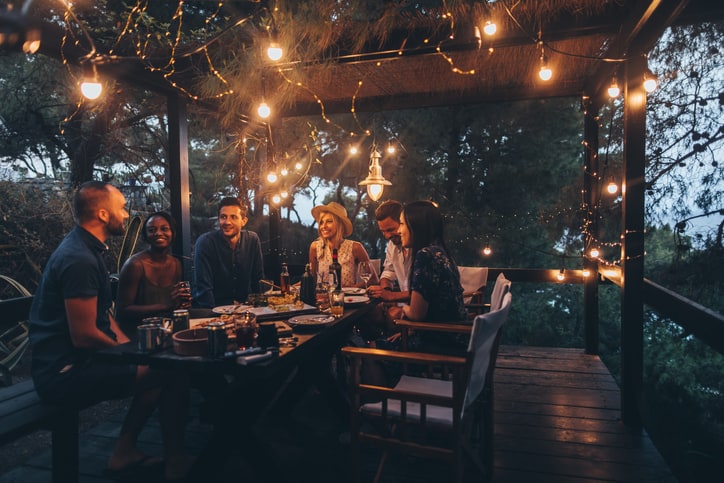 Get-togethers with friends and family are often the biggest highlights of the summer. But if you're the one hosting that graduation party, Fourth of July barbecue, or family reunion, you may also wind up with a big bill.
Fortunately, your next gathering doesn't have to be an expensive affair. Entertaining on a budget can be as simple as an outdoor picnic or evening game night. Even though food, drink, and décor are important, the key to a great party is the people. After all, your friends will remember the laughs and conversations, not your discount tablecloth.
Here are a few budget party ideas to keep expenses down while having a good time.
Budget-Friendly Party Food
If the food at your party is as good as your company, you're guaranteed to have a successful gathering. Try some of these ideas. Both the food and savings will be delicious:
Potluck dinners: Potluck are the ultimate cost-saving party hack. In addition, they give guests a creative way to contribute to the party, allow friends with allergies or special dietary needs to bring options right for them, and allow everyone to share a bit of themselves with family and friends. Choose a food theme based on a culinary style, color, favorite movie, holiday, or ingredient. Ask guests to specify any common allergens, like nuts, gluten, or shellfish used in the recipe.
One Dish Meals: Flavorful foods served in a bowl are great for casual get-togethers like game days or movie nights. For your next viewing party extravaganza, cook up a big pot of chili and serve with tortilla chips and dip.
Brunch parties: Brunches are delicious and cost-saving events. Serve an egg-based casserole, spicy breakfast sausages, cinnamon buns, and a waffle bar with fresh fruit, syrup, and jam for an event that's sure to please.
Drink Menus That Won't Drain Your Budget
You may not think "party ideas on a budget" applies to drink options. However, you don't need a full bar to keep your guests happy. Instead, try these cost-saving options:
BYOB: When guests bring their own bottles, they'll be sure to get exactly what they want to drink. You'll save hundreds of dollars on the cost of spirits or other pricey beverage options.
Make Fancy Water: Serve plenty of non-alcoholic options, like fruit-infused water or flavored seltzer.
Buy Beverages in Bulk: Buy sodas, water, and other drinks from a wholesale club. You'll have plenty to go around, all at a lower price than you'd pay at grocery or convenience stores.
Choose Off-Brand Drinks: Skip the name-brand beverages and choose the generic store brand to save big on the similar products (this goes for snack foods and other items too).
Décor on a Dime
Inexpensive decorations will show off your creative flair for party décor. Think about the theme, colors, and of course, supplies you probably already have on hand. Pinterest has a wealth of cost-saving, easy-to-make decorations for your next event.
Skip the Paper and Plastic: Use real dinnerware to avoid the cost of disposable plates, plastic forks, and paper cups. Simple white plates always make for a nice tablescape when paired with a centerpiece and candlesticks.
Use Natural Decor: Instead of pricey bouquets, fill mason jars with wildflowers, branches, leaves, or vines. Glue leaves to monofilament (fishing line) to create a festive garland.
Double Duty Party Favors: Create inexpensive party favors that double as place cards. Write each guest's name on a dollar store china mug with ceramic paint pens. To make the image permanent, bake your mugs according to the directions on the paint pens.
American Heritage Can Help
While you're throwing a great party on a budget this summer, American Heritage is celebrating our members and offering innovative ways to help you spend and save smarter. With low-rate and cash-back credit cards and higher-yield savings options, we make it easy to shop for your party and save for your next one.