American Heritage Invites Members and the Community to Take Part in the 10th Annual Spirit of Giving Food Drive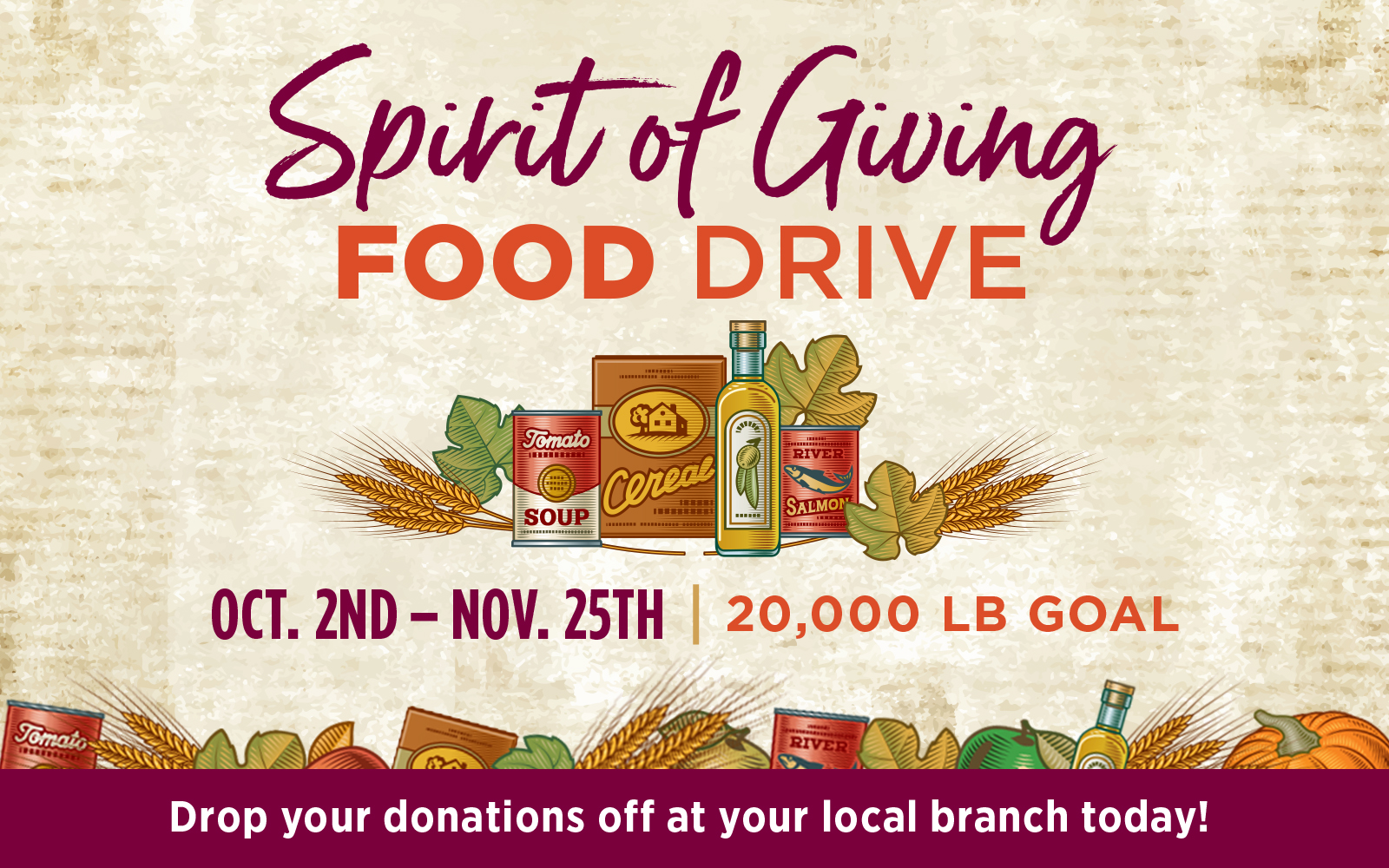 American Heritage Credit Union invites its credit union members and the community to help collect 20,000 pounds of food in its 10th annual Spirit of Giving Food Drive. All nonperishable food donations will be distributed to various food pantries and food banks throughout the region the credit union serves. The Spirit of Giving Food Drive is a part of American Heritage's annual holiday initiatives and provides much needed meals, nonperishable food items, and monetary donations to local families and organizations in need.
The donations will be collected from October 2nd to November 25th at all 35+ American Heritage branch locations. Nonperishable goods such as soups, canned meat and vegetables, rice and pasta are at a higher demand this time of year, primarily due to Thanksgiving as well as December holidays. You can find the closest American Heritage branch near you by visiting AmericanHeritageCU.org/Locations.
"We are deeply concerned about the increased need for food donations and the impact inflation continues to have on the community we serve," stated Bruce K. Foulke, President & CEO of American Heritage. "I am grateful for the support this donation drive receives from our associates, business partners, and members. The donations we receive are sure to make a great impact on our regional food banks, food pantries, and service organizations and the community members they support."
Each American Heritage branch will collect goods for a food bank or organization that directly supports families in the area the branch is located. Food banks and organizations who will receive donations from this year's Spirit of Giving Food Drive include:
Bread of Heaven Food Patry
Bryn Mawr Ave Church of God Food Pantry
Caring for Friends
Catholic Social Services Martha's Choice Marketplace
Cherry Hill Food Pantry
Coventry Food Pantry
Daily Bread Community Food Pantry
Family Service Association of Bucks County Food Pantry
Food Bank of South Jersey
Manna on Main

New Britain Baptist Church & Food Pantry
Pennridge Fish
Philabundance
Quakertown Food Pantry
Seeds of Hope Community Food Pantry
The Salvation Army Kroc Center
Upper Merion Area Community Cupboard
Warminster Food Bank
Wayne Church Food Pantry
To find a branch closest to you, visit AmericanHeritageCU.org/Locations.