American Heritage Sponsors "Occupied Philadelphia" Weekend at the Museum of the American Revolution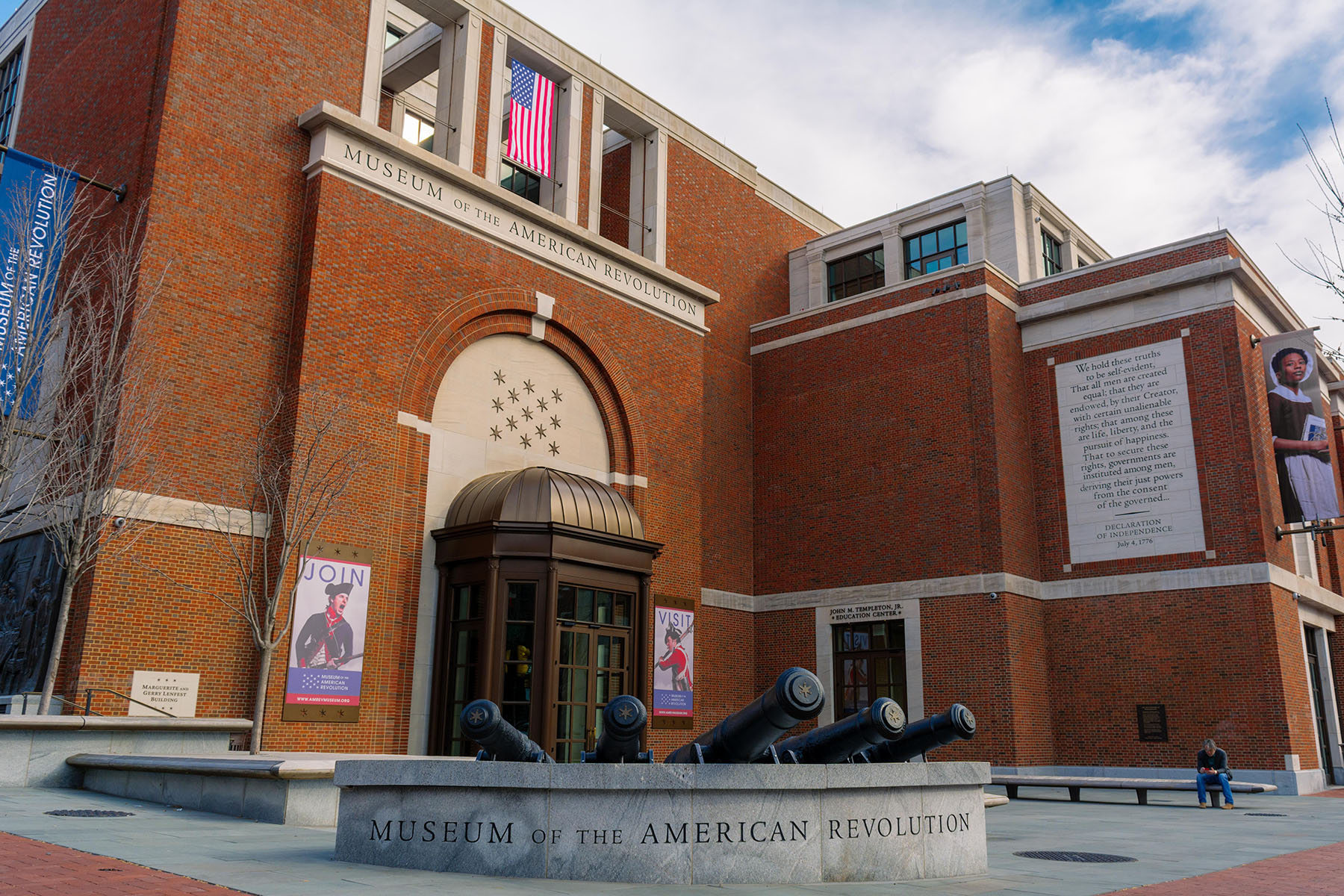 Occupied Philadelphia is sponsored by American Heritage Credit Union.
In the fall of 1777, Philadelphia was seized by the British and occupied for nine long months. The Museum of the American Revolution will recreate this little-known time in our city's history as part of its annual living history event, Occupied Philadelphia, on Saturday, November 5, from 10 AM – 5 PM, and Sunday, November 6, 2022, from 10 AM – 3 PM. The Museum will offer guided neighborhood walking tours and family-friendly activities exploring what life was like while British forces controlled – or, for some people, attempted to liberate – Philadelphia.
Throughout the weekend, visitors will meet soldiers, civilians, prisoners of war, and spies as they demonstrate their trades, like coopering, dressmaking, wheelwrighting, and leatherwork, and perform street theater vignettes that bring dramatic moments from 1777-78 to life.
The festivities will kick off on Saturday at 10 AM as more than 50 costumed historical interpreters gather on the Museum's outdoor plaza for the unfurling of the British flag and the reading of British General Howe's proclamation declaring Philadelphia an occupied city.
We will be joined on the Museum plaza throughout the weekend by representatives from Urban Creators, who will be selling locally grown produce and seeds that would have been grown in Revolutionary-era Philadelphia as well as discussing food insecurity in Philadelphia. Based in North Philadelphia, Urban Creators is a platform for radical and collaborative imagination that uses food, art, and education as tools to nurture resilience and self-determination.
On Saturday and Sunday, join a guided walking tour and step into Philadelphia as it was occupied in the fall of 1777. These hour-long tours will depart from the Museum every half-hour beginning at 10:30 AM and will include stops at nearby historic sites, where you will meet costumed interpreters and complete a "spy challenge" to aid the Revolutionary cause. Guests should plan on an outdoor tour of approximately one mile. All tickets include Museum admission as well as an exclusive activity pack and spy challenge. General admission tickets are available here. Member tickets are available here.
On Saturday at 11:30 AM, kids and their adults can gather up for a History Explorers walk through the neighborhood to experience what life was like in Philadelphia under British authority. Why did the British want to take over Philadelphia? How did Philadelphians feel about it? And where did General Washington go?! Join Family Programs Manager Rebecca Franco as we work together to answer these questions and hunt through soldiers and civilians to gather the latest information to pass on to the spymaster – if we can find them! Kids are invited to take the lead in this program, but all minors must be accompanied by an adult. Tickets are $15 in addition to general Museum admission for kids and included in the cost of general Museum admission for adults, and can be purchased here.
On Sunday at 1 PM, Museum Members can gather for a spot of afternoon tea with costumed British soldiers and civilians. This free Members-only exclusive teatime will be hosted in the Museum's Liberty Hall. More information and free registration for Members here.
"At American Heritage Credit Union, we are committed to investing in our community, so we are delighted to support this unique, family-friendly event that brings history to life in such a fun and engaging way," said Bruce Foulke, CEO of American Heritage Credit Union, the weekend's sponsor. "We look forward to seeing you there!"
Tickets for the guided walking tours and History Explorers meet-up may be purchased in advance or on the day of the event. Tickets to the Museum can be purchased by calling 215.253.6731, at AmRevMuseum.org, or at the front desk. Kids 5 and under are always free. Tickets are valid for two consecutive days. The Museum is open to the public daily from 10 AM – 5 PM.