Polish and American Credit Unions Purchase Ukrainian Relief Ambulances Through Support Fund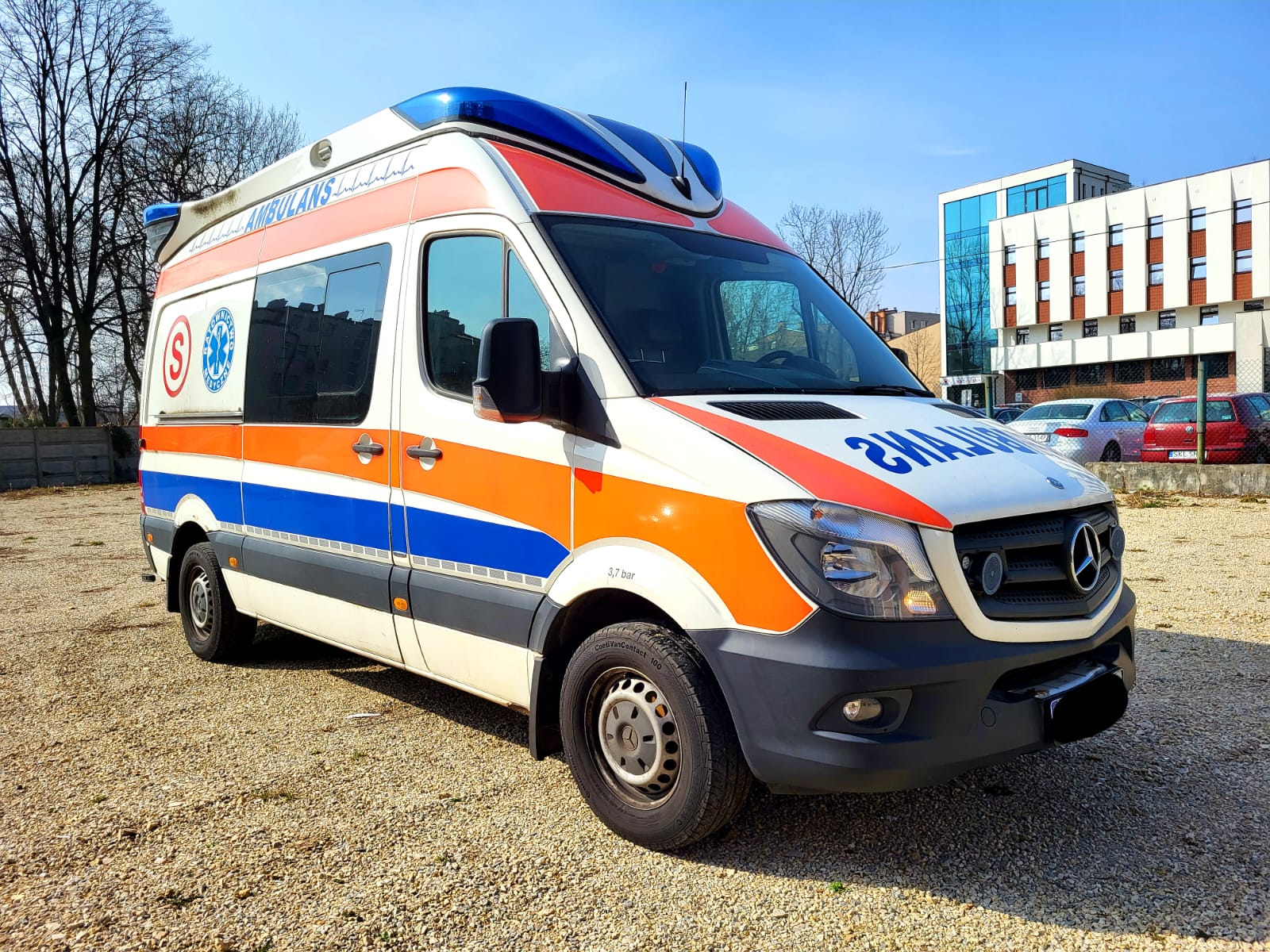 A group of American and Polish credit union leaders have joined forces to create a support fund through Polish credit unions delivering relief and economic stability for Ukrainian refugees in Poland. The proceeds of the fund are being used to evacuate ill and injured citizens from Ukraine and to transport refugees arriving in Poland from relief dependency to financial stability. The two ambulances acquired and donated through this effort are used for the evacuation of sick children, pregnant mothers, and handicapped and injured persons. They are transported to Polish hospitals from Ukraine so they can receive safe and urgent medical attention.
The genesis of the fund came about during a visit to Eastern Europe by American Heritage Credit Union's President & CEO, Bruce K. Foulke, and retired President & CEO of the World Council of Credit Unions, Dr. Brian Branch, during the week of March 14, 2022. There, they met with government and credit union leaders from Poland and Ukraine, as well as with refugees, to identify ways for the global credit union movement to provide immediate relief and support to move displaced, sick, and injured Ukrainian refugees and to provide refugees with safe housing and employment.
The Polish American Credit Union Support Fund has already raised more than $400,000 through its partnerships with Mitchell Stankovic, C.A.R.E.S. Foundation, several American and Polish credit unions, and the National Association of Credit and Savings Unions, which serves as Poland's primary credit union association. From these funds, two ambulances have been acquired to date, which are now in active service, transporting refugees to Polish healthcare facilities. Donations have also been used to move refugee families to more permanent housing, place refugee children in schools, and find employment for refugees, many of whom arrived with no more than one suitcase for an entire family. To date, over 1,300 Ukrainian families have been supported through this effort.
How Can American Organizations Get Involved?
U.S. credit unions may send funds directly to the Polish American Credit Union Support Fund located in Poland at
https://pacus.skok.pl/
. Individuals may also make a credit card contribution through Paypal at the same site. For-profit organizations may make a tax-deductible contribution through the C.A.R.E.S. Foundation of Peach State FCU. To learn more, prospective donors can contact Bruce K. Foulke, President & CEO of American Heritage Credit Union, at ceo@amhfcu.org.
Polish American Credit Union to Credit Union Support Fund Organizers:
"Polish credit unions have supported the struggle for freedom and democracy of our Ukrainian brothers and sisters for more than 30 years and we are right here on the border receiving and comforting refugees every day. We are actively working to help refugees move from relief to economic stability. We help them find housing, schools, and jobs. We help them open a savings account and access payment services to give them a path of economic security and hope for the future. This is what credit unions do." - Rafal Matusiak, President & CEO, National Association of Credit and Savings Unions (NACSCU), Poland
"The entire credit union movement has stepped up to help our fellow global citizens. Specifically, the Polish American Credit Union Support Fund supports the strategic and unique credit union financial mission for longer-term financial and economic integration of Ukrainian refugees in Poland. It provides a credit union-to-credit union direct delivery channel for immediate impact for Ukrainian refugees, works within the credit union network, and delivers 100% of funds for program purpose with no intermediary fees. It supports the work that credit unions in Poland are already doing on the ground."- Dr. Brian Branch
"Brian and I met with government officials and Polish and Ukrainian Credit Union association staff to understand how and whom we could help. Among the numerous requests was the need for 500 ambulances to move wounded and sick refugees out of the war area and to Polish hospitals. The cost of a local ambulance will be around $75,000 USD. These are not high-end vehicles; they serve as transports with basic medical equipment on board. I am asking and challenging the industry to provide a lifesaving donation to assist in the purchase of two ambulances." - Bruce K. Foulke, American Heritage President & CEO (Pennsylvania)
"On March 17th, we hosted a live broadcast from Lublin, Poland for Underground credit union thought leaders in the United States. The urgency and purpose for a CU-to-CU fund became clear when we heard a female refugee describe her harrowing evacuation. Polish credit unions were coming together and looking for support to create a path forward. It became a collaboration for all of us, and we took action. - Susan Mitchell, CEO of Mitchell, Stankovic, Founder of the Underground
About Credit Unions:
Owned and controlled by their members, credit unions are not-for-profit organizations that exist to serve their members. Credit unions are federally chartered and insured by the NCUA. They accept deposits, make loans, and provide a wide array of other financial services. Credit unions operate to promote the well-being of their members and the communities they serve. In Poland, credit unions are referred to as "Skoks".
About Polish American Credit Union Support Fund:
Created in March of 2022, the purpose of the Polish American Credit Union Support Fund is to support Polish credit unions in delivering relief and economic stability for Ukrainian refugees in Poland, including medical supplies and ambulances for evacuation of sick and injured Ukrainian citizens. Additionally, the fund also facilitates housing, education, and credit union membership access to displaced Ukrainian citizens as well as credit union savings, payments, and loans for long term financial and economic stability of refugees and host communities. To learn more or to donate, please visit
https://pacus.skok.pl/
.
United States Contacts:
Donor Inquiries:
• Bruce K. Foulke, President & CEO of American Heritage Credit Union:
ceo@amhfcu.org
Media Inquiries: