American Heritage Credit Union's President & CEO Performing Humanitarian Trip to Eastern Europe; Will Visit Poland to Distribute Medical Supplies and Support Reconstruction of Ukrainian Credit Unions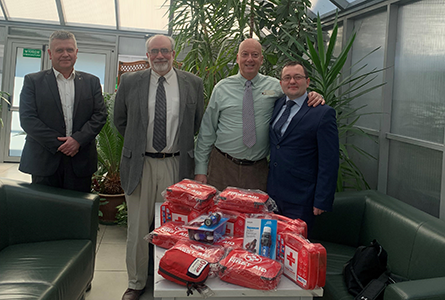 American Heritage Credit Union's President & CEO, Bruce K. Foulke, alongside Dr. Brian Branch, retired President & CEO of the World Council of Credit Unions (WOCCU), will be performing a humanitarian trip to Eastern Europe during the week of March 14, 2022, to meet with credit union leaders from Poland and Ukraine. Foulke and Branch will also deliver first aid supplies and everyday necessities to Ukrainian refugees.
In addition, American Heritage Credit Union's associates are collecting goods to be donated to Ukrainian National Women's League of America, Inc (UNWLA), which will in turn provide support to civilians in Ukraine who have been displaced or injured due to recent events. Items being collected include diapers, baby formula and food, first aid supplies, and non-perishable food.
"The events unfolding in Eastern Europe are devastating and horrific," stated Bruce K. Foulke, President & CEO. "Our credit union family includes many associates, members, and community partners who are Ukrainian natives or of Ukrainian descent, and American Heritage has a long history of stepping up when our global or local community needs our assistance."
A champion of supporting credit unions throughout the world, Bruce K. Foulke served on the WOCCU Board and the WOCCU Foundation from 2012 to 2017. He also served as the Treasurer for both organizations. He has performed previous humanitarian trips to Asia, Africa, and the Caribbean to facilitate support for international credit unions.
Dr. Brian Branch is the retired President & CEO of WOCCU. During his tenure, Branch traveled to over 100 countries, developing programs to start credit unions, conduct management training, expand outreach, build networks, improve regulatory environments, and introduce technological innovations. He previously developed credit union policies and lending programs to stabilize local economies in civil-war era Ukraine
Foulke and Branch will be providing counsel and aid to their fellow credit union colleagues in Eastern Europe so that they can resume operations as soon as possible and offer much-needed economic assistance to their members. They will be meeting with representatives of the National Association of Co-operative Savings and Credit Unions, Poland (SKOK). The organization represents Polish credit unions, serving over 2.5 million citizens.
"Credit unions have served as the lifeblood of the Ukrainian economy since the country's independence, and right now they desperately need both our prayers as well as our financial support," stated Foulke. "Dr. Branch and I are working with credit union movement partners in Eastern Europe to ensure that they have the supplies, systems, and support so that they can help rebuild the Ukrainian economy as soon as it is viable to do so."