American Heritage Credit Union Hosted Annual Car Show, Raising $25,000 for The Kids-N-Hope Foundation's 25th Anniversary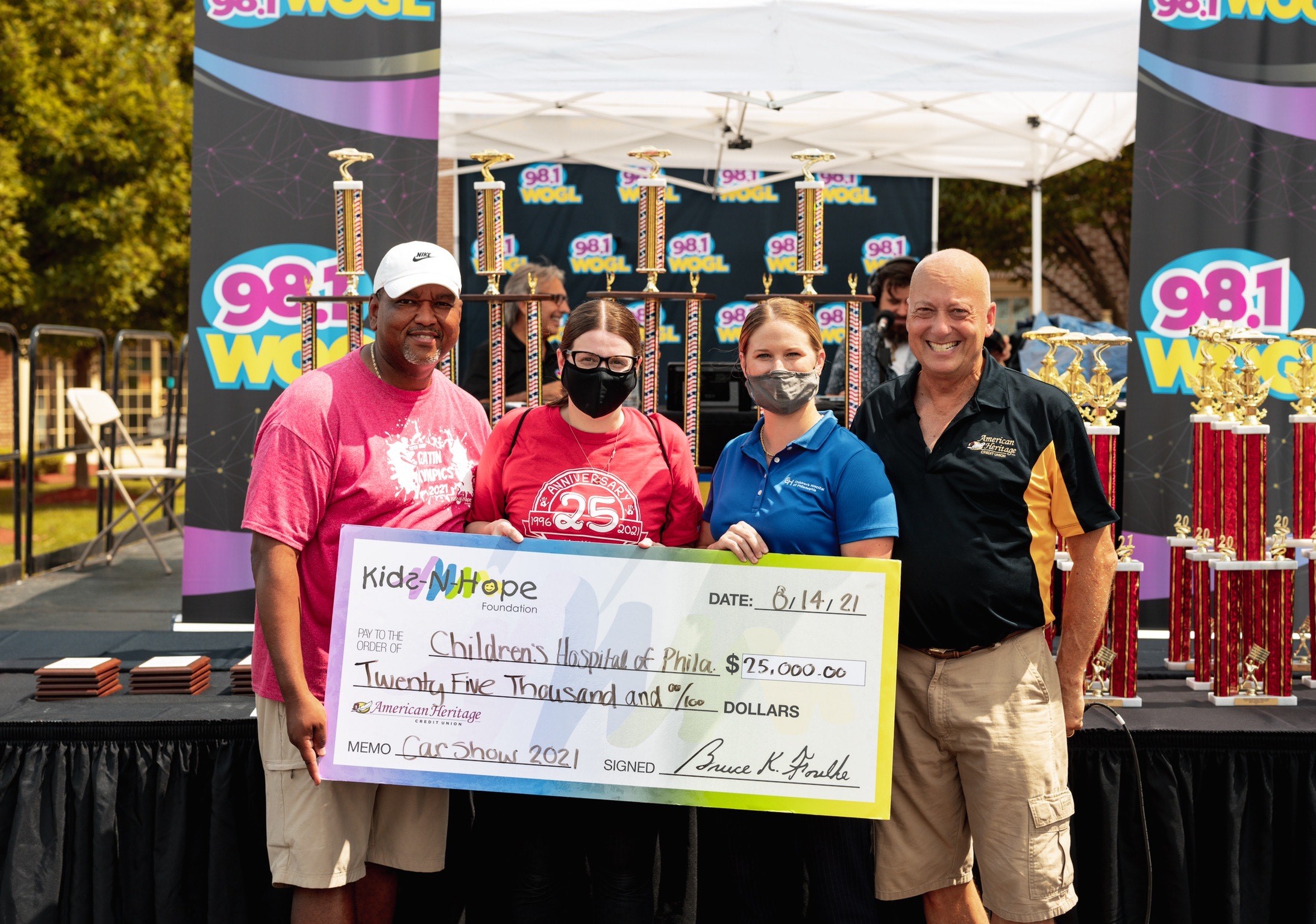 08.20.21
American Heritage Credit Union and 98.1 WOGL recently hosted the 17th Annual Car Show and Member Appreciation Day, with a simultaneous commemoration of The Kids-N-Hope Foundation's 25th Anniversary. Over 300 cars and 7,500 attendees came out to support the event and helped raised $25,000 for The Kids-N-Hope Foundation, which supports local children's health life services, especially music therapy.
The Kids-N-Hope Foundation was formed in 1996 by American Heritage Credit Union. For over 25 years, it has funded children's health and life services including the Music Therapy Program at Children's Hospital of Philadelphia ("CHOP") and other local hospitals and not-for-profit organizations within American Heritage's Workplace Partnership Program. At the end of 2019, The Foundation achieved the milestone of having donated $2 million since its inception to CHOP.
The 17th Annual Car Show and Member Appreciation Day featured hundreds of classic, muscle, and modern show cars. Attendees enjoyed the craft show, visited the family fun zone for games and the petting zoo, and enjoyed WOGL-FM's live broadcast as well as a Kids-N-Hope Anniversary Concert performed by LECOMPT. The Greater Philadelphia Chapter of Tuskegee Airmen also attended the event to share their mission and history.
"It was exciting to have our members, the community, and our Foundation supporters back on our campus to safely celebrate this outstanding milestone together and help raise $25,000 for The Kids-N-Hope Foundation," stated Bruce K. Foulke, President & CEO of American Heritage and Founder of The Kids-N-Hope Foundation. "Without the continual support of event participants, sponsors, and the community, The Foundation would not be able to carry out its mission to positively impact child life services and provide creative outlets like music therapy to local children undergoing medical treatment."
For upcoming events and to learn more about The Foundation, visit www.kidsnhope.org or call 215-969-2938.