American Heritage Credit Union Receives CUNA Diamond Awards For Outstanding Marketing Achievements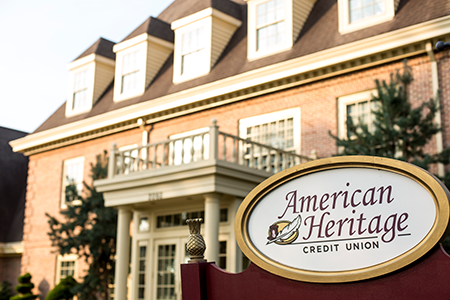 American Heritage Credit Union ("American Heritage") was recently honored with six Diamond Awards, including one Category's Best Award, which recognize outstanding marketing and business development achievements in the credit union industry.

The awards were presented by the CUNA Marketing & Business Development Council, a national network comprised of over 1,200 credit union marketing and business development professionals. Awards are given in each of 35 categories ranging from advertising to community events and beyond.

American Heritage won Diamond Awards for the following categories: Email Marketing (Single or Series), Multifaceted, Ongoing Event, Content Marketing, and Complete Campaign categories, and a Direct Mail (Single or Series) Category's Best Award. The Email (Single or Series) category recognizes the success of American Heritage's newly implemented product email marketing matrix system. The Multifaceted category was awarded for the company's campaign during the holiday season including both promotional and charitable content. The Ongoing Event category was awarded for American Heritage's Grand Illumination live stream and both digital and traditional promotion. The Content Marketing category includes the Credit Union's blog, and financial education and online services eDigests. The Complete Campaign category encompasses American Heritage's entire 2019 "Revolutions Are Born Here" campaign. The Direct Mail (Single or Series) Best in Category award honors the design and success of the mail series accompanying the 2019 "Revolutions are Born Here" campaign.
"Our Marketing team strives to provide best-in-class communication to our membership," stated Mike Dinneen, Vice President of Marketing at American Heritage. "Our objective is to ensure that our members receive the best solutions to meet their needs through their preferred information and media channels. I am extremely proud of our talented team for being recognized by our peers in the Credit Union Movement for excelling in this endeavor."

"It's an honor to bring recognition to some of the best-of-the-best in credit union marketing and business development," said Amy McGraw, diamond awards chair and VP Marketing/Chief Experience Officer at Tropical Financial Credit Union. "Thank you for joining us to celebrate the remarkable achievements of your peers and gather ideas to elevate our profession."

The CUNA Marketing & Business Development Council celebrated Diamond Awards Week by announcing winners in 35 categories through a series of daily virtual awards ceremonies. Turnout was outstanding for this year's award competition with 1,295 entries submitted. Six credit unions won Best of Show Awards, 93 won Category's Best Awards and 255 won Diamond Awards. For more information on the Diamond Awards or to view the entire list of winners, visit CUNA Councils' website at https://www.cunacouncils.org/events-calendar/mbd-awards/.
About American Heritage Credit Union
American Heritage Credit Union is a $3.0 billion, member-owned financial cooperative serving more than 800 Workplace Partners and more than 200,000 members, with more than 35 locations across Philadelphia, Bucks, Montgomery, and Camden Counties. Founded in 1948, American Heritage Credit Union is now one of the 100 largest credit unions in the United States and named a Best-in-State Credit Union by Forbes. For more information about American Heritage Credit Union please visit AmericanHeritageCU.org.
About CUNA
Credit Union National Association (CUNA) is the only national association that advocates on behalf of all of America's credit unions, which are owned by 115 million consumer members. CUNA, along with its network of affiliated state credit union leagues, delivers unwavering advocacy, continuous professional growth and operational confidence to protect the best interests of all credit unions. For more information about CUNA, visit cuna.org. To find your nearest credit union, visit YourMoneyFurther.com.
About CUNA Councils
CUNA Councils is a member-led, collaborative community of credit union leaders providing vibrant peer interaction, new ideas and innovation to foster professional development for our members while advocating for the overall success of the credit union movement. There are seven CUNA Councils with a network of more than 7,300 credit union professionals. For more information, visit cunacouncils.org.