American Heritage Credit Union Announces Member and Community Support Programs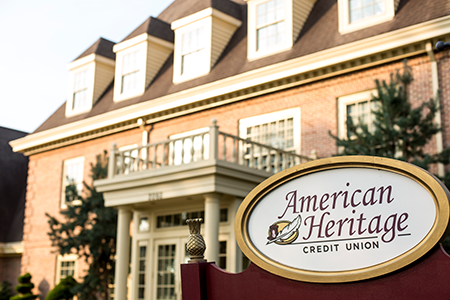 Donations of 50,000 PPE Facemasks to Local Hospitals
Partnering with American Red Cross for CDC-Approved Blood Drives
Member Support and Relief Programs
American Heritage Credit Union, in response to major community needs of blood and personal protective equipment ("PPE") donations, is facilitating donations of both supplies and blood to local partners in the coming weeks. Throughout the COVID-19 pandemic, American Heritage has been committed to the safety of its members, workplace partners and communities, contributing both financial relief as well as donation of supplies, buildings, and volunteers.
Personal Protective Equipment Mask Donations
American Heritage will be donating 50,000 Personal Protective Equipment ("PPE") facemasks to local hospitals during the month of April. American Heritage counts more than a dozen local hospital networks and healthcare facilities among its 800 Workplace Partners, including Children's Hospital of Philadelphia, Jefferson Health, Trinity Health/St. Mary's Hospital, Prime Healthcare, Grandview Health, Doylestown Health/Doylestown Hospital, Tower Health and more.
"A large portion of our membership includes employees at our local hospital networks, and those members are on the front line of the COVID-19 pandemic," stated Bruce K. Foulke, President & CEO of American Heritage. "For many years, we have worked with local hospitals to raise millions for their pediatric therapy programs. Now, they need our support more than ever, and we are inspired by the passion and selflessness that our hospital members are doing to help affected patients and communities.
The Board of Directors and staff of American Heritage have worked to procure over 50,000 PPE masks, and we are quickly deploying them to our local hospitals."
American Red Cross Blood Drives
American Heritage is opening several of its locations so that the American Red Cross can host urgent blood drives during the month of April at American Heritage locations. The American Red Cross has implemented several precautions based on CDC guidelines to further ensure the safety of donors and American Red Cross staff.
"The American Red Cross, and our country, is facing a severe blood shortage," stated Foulke. "With such a large influx of illness among our citizens, as well as concerns about social distancing, we must do whatever we can to help replenish the blood supply in our community. We are proud to partner with the dedicated team at Red Cross and donate the usage of our facilities for this critical cause."
Community blood drives will take place at the following times and locations:
American Heritage Quakertown Branch Community Building:
280 N. West End Blvd., Quakertown, PA 18951
Tuesday, April 14, 8:30 a.m.- 1:30 p.m.

American Heritage Horsham Branch Training Room:
339 Maple Ave., Horsham, PA 19044
Thursday, April 16th, 9:00 a.m. - 2:00 p.m.

American Heritage Northeast Philadelphia - Main Campus Community Room:
2060 Red Lion Road, Philadelphia, PA 19115
Tuesday, April 28, from 9:00 a.m. - 2:00 p.m.

Blood Drive must register by appointment at RedCrossBlood.org and use sponsor code AHFCU or call 800-733-2767. The donor sites will follow several CDC-approved guidelines including a wellness check of temperature and a screening, sanitizing procedures, and social distancing guidelines. Upon departure, the American Red Cross staff will sanitize all areas that have been occupied.
About American Heritage COVID-19 Support Efforts
American Heritage has provided several dozen support and relief programs for its members in the wake of COVID-19, including:
Comprehensive COVID response page at: AmericanHeritageCU.org/Update
Waiving late fees on all late loan payments
Skip-A-Pay options and other relief for loans
Surcharge-free ATMs for the entire public at all American Heritage locations
Fee waivers for access to Certificates and other minimum balances
Live video teller support and full transactions at all branch and workplace Personal Automated Teller (PAT) machines throughout the Delaware Valley
Full online banking and mobile app transactional abilities, including online portal for all account forms.
Member Relief loans.
SBA Payroll Protection Program loans.
About American Heritage Credit Union
American Heritage Credit Union is a $2.9 billion, member-owned financial cooperative serving more than 800 Workplace Partners and more than 200,000 members, with more than 35 locations across Philadelphia, Bucks, Montgomery, and Camden Counties. Founded in 1948, American Heritage Credit Union is now one of the 100 largest credit unions in the United States and named a Best-in-State Credit Union by Forbes. For more information about American Heritage Credit Union please visit AmericanHeritageCU.org.