American Heritage Credit Union's Bruce K. Foulke Named Most Admired CEO by Philadelphia Business Journal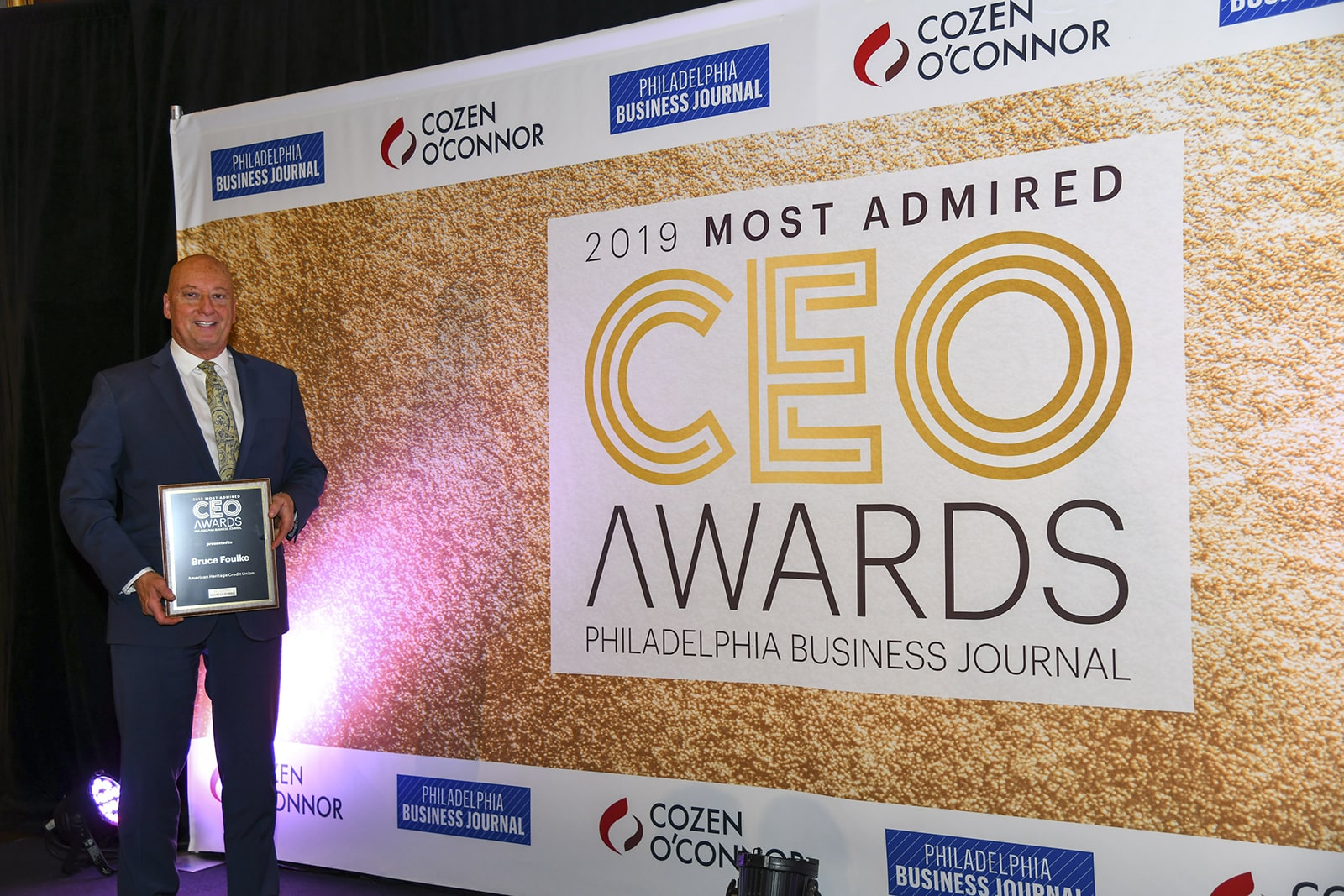 Bruce K. Foulke, President and CEO of American Heritage Credit Union has been named a recipient of the Most Admired CEO awards by the Philadelphia Business Journal. The honorees were highlighted in print on December 6, 2019. To view the complete list of honorees, please click here.
The Philadelphia Business Journal received nearly 100 nominations across a scope of industries for this year's Most Admired CEO awards. An editorial team of judges selected a group of 25 local executives for the sixth class of awardees. Honorees are established leaders with a strong record of innovation in their field, outstanding financial performance, a commitment to quality, a strong vision, a commitment to diversity in the workplace and contributions to Greater Philadelphia. Foulke, among other honorees, was recognized at a dinner reception on December 3rd at the Union League of Philadelphia.
"It was an honor to be recognized with so many distinguished leaders in our area," stated Foulke. "This accolade would not have been possible without the continued support and vision of the American Heritage Board of Directors and employees. Their continued commitment to our membership and dedication to serving our communities helps make American Heritage the premiere financial institution in our region."
About American Heritage Credit Union
American Heritage Credit Union is a $2.7 billion, member-owned financial cooperative serving more than 800 Workplace Partners and more than 190,000 members, with more than 35 locations across Philadelphia, Bucks, Montgomery, and Camden Counties. Founded in 1948, American Heritage Credit Union is now one of the 100 largest credit unions in the United States and has been named a Best-in-State Credit Union by Forbes. For more information about American Heritage Credit Union please visit AmericanHeritageCU.org.
About Philadelphia Business Journal
The Philadelphia Business Journal is the premier media solutions platform for companies strategically targeting business decision makers. The media products provide comprehensive coverage of business news from a local, regional and national perspective publishing daily stories on its website, social networks and weekly edition available in print and online. The Philadelphia Business Journal is part of American City Business Journals (ACBJ) that delivers a total business audience of over 10 million people via our websites and publications and nearly 1,000 annual industry leading events. ACBJ owns 43 business publications across the country that offers exclusive, in-depth business coverage.
In addition, ACBJ owns and operates SportsBusiness Journal, SportsBusiness Daily, SportsBusiness Daily Global, Inside Lacrosse, Hemmings Motor News and The Esports Observer. ACBJ is a unit of Advance Publications, Inc.