American Heritage Credit Union and Entercom Philadelphia's 98.1 WOGL Raise $14,000 for the Kids-N-Hope Foundation at Annual Car Show, Craft Show and Member Appreciation Day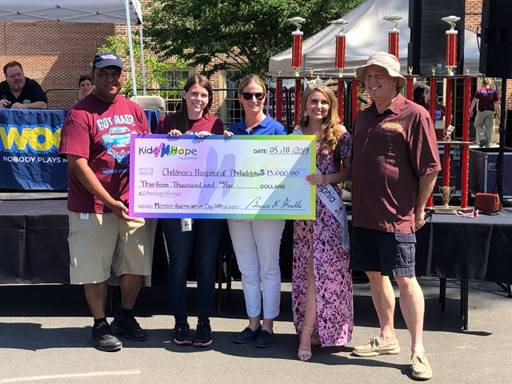 American Heritage and Entercom Philadelphia's 98.1 WOGL-FM held their Annual Car Show, Craft Show and Member Appreciation Day on Saturday, May 18, 2019 on the grounds of American Heritage's headquarters in Northeast Philadelphia. The event raised over $14,000 for American Heritage's Kids-N-Hope Foundation, which supports the Music Therapy Program at the Children's Hospital of Philadelphia and other local area hospitals in American Heritage's Workplace Partnership Program. American Heritage was the first credit union in the country to create its own charitable foundation.
Thousands of credit union members and area residents spent a fun-filled Saturday afternoon observing classic cars, shopping at the 40-vendor craft show, enjoying games and entertainment in their Family Fun Zone while listening to a live broadcast from 98.1 WOGL.
Nearly 300 classic, muscle and new generation vehicles — from Roadsters to Rolls Royces — were judged to determine the winners of: "WOGL Choice", "CEO's Choice", "Judges' Choice", and "Best of Show" trophies, along with trophies awarded by classic car industry experts to the top 50 show cars and best in class.
"Our Member Appreciation Day has become a tradition, and not only does it demonstrate our commitment and appreciation of our members and local community, but it also raises significant funds for our Kids-N-Hope Foundation," stated American Heritage President & CEO Bruce K. Foulke. "Our neighbors and members had a memorable day, and their kindness and contributions will have a lasting impact on children in our community."
98.1 WOGL is a part of Entercom, a leading American media and entertainment company and one of the two largest radio broadcasters in the country.
About American Heritage Credit Union
American Heritage Credit Union is a $2.5 billion, member-owned financial cooperative serving more than 800 Workplace Partners and more than 190,000 members, with more than 35 locations across Philadelphia, Bucks, Montgomery, and Camden Counties. Founded in 1948, American Heritage Credit Union is now one of the 100 largest credit unions in the United States and named the # 1 credit union in the state of Pennsylvania by Forbes. For more information about American Heritage Credit Union please visit AmericanHeritageCU.org.