American Heritage Credit Union Makes $25,000 Donation to Abington-Jefferson Health's Safe Harbor Program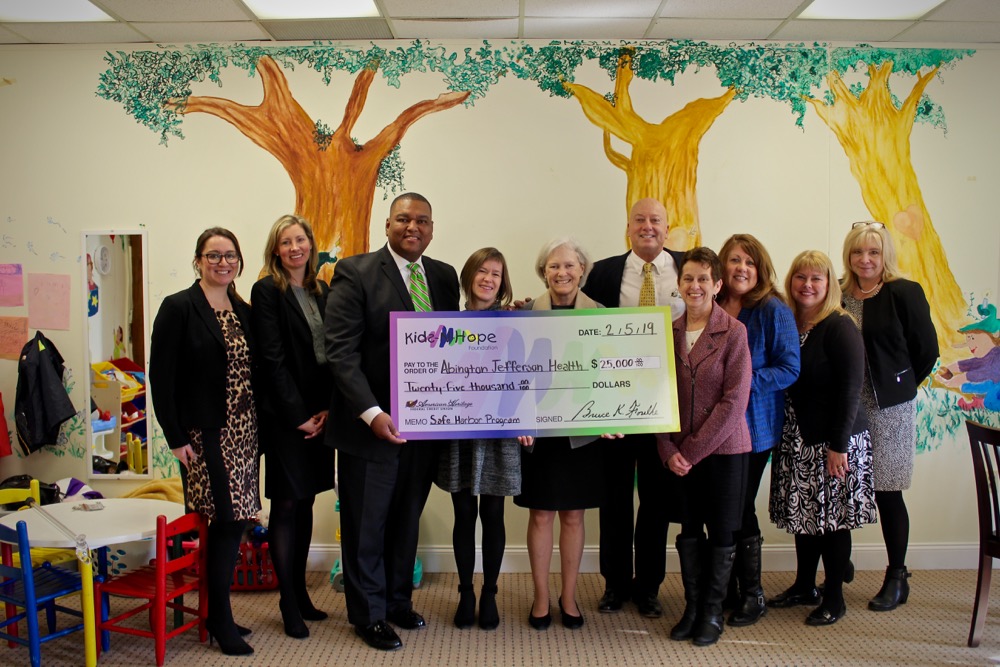 PHILADELPHIA, PA – February 12, 2019 – American Heritage Credit Union (American Heritage) presented a $25,000 donation to Abington-Jefferson Health to support their Safe Harbor Program on Tuesday, February 5. Bruce K. Foulke, American Heritage's President & CEO, and Dorian Smith, American Heritage's Vice President of Business Development, were on hand to present the donation to Representatives of the Safe Harbor Program.
The Safe Harbor Program provides ongoing grief support groups for children, teens and their parents or caregivers. The program, free to the community, offers many support sessions including children and teen groups for ages four to 18, a young adult group for ages 19 to 29, parent/caregiver groups, as well as a "Moving On" group. Safe Harbor believes that it is a natural process to grieve after a loss and the duration and intensity of grief is unique for each individual.
"American Heritage is continually finding new ways to help the communities we serve," states Bruce Foulke. "Providing needed resources for young children, young adults and their families, especially those experiencing hardships that the Safe Harbor Program supports, are a passion of ours at American Heritage. We are excited to be apart of Safe Harbor's support."
About American Heritage Credit Union
American Heritage Credit Union is a $2.4 billion, member-owned financial cooperative serving more than 800 Workplace Partners and more than 185,000 members, with more than 35 locations across Philadelphia, Bucks, Montgomery, Delaware and Camden Counties. Founded in 1948, American Heritage Credit Union is now one of the 100 largest credit unions in the United States and named the # 1 credit union in the state of Pennsylvania by Forbes. For more information about American Heritage Credit Union please visit AmericanHeritageCU.org.