American Heritage Sponsors "Occupied Philadelphia" Weekend 2023 at the Museum of the American Revolution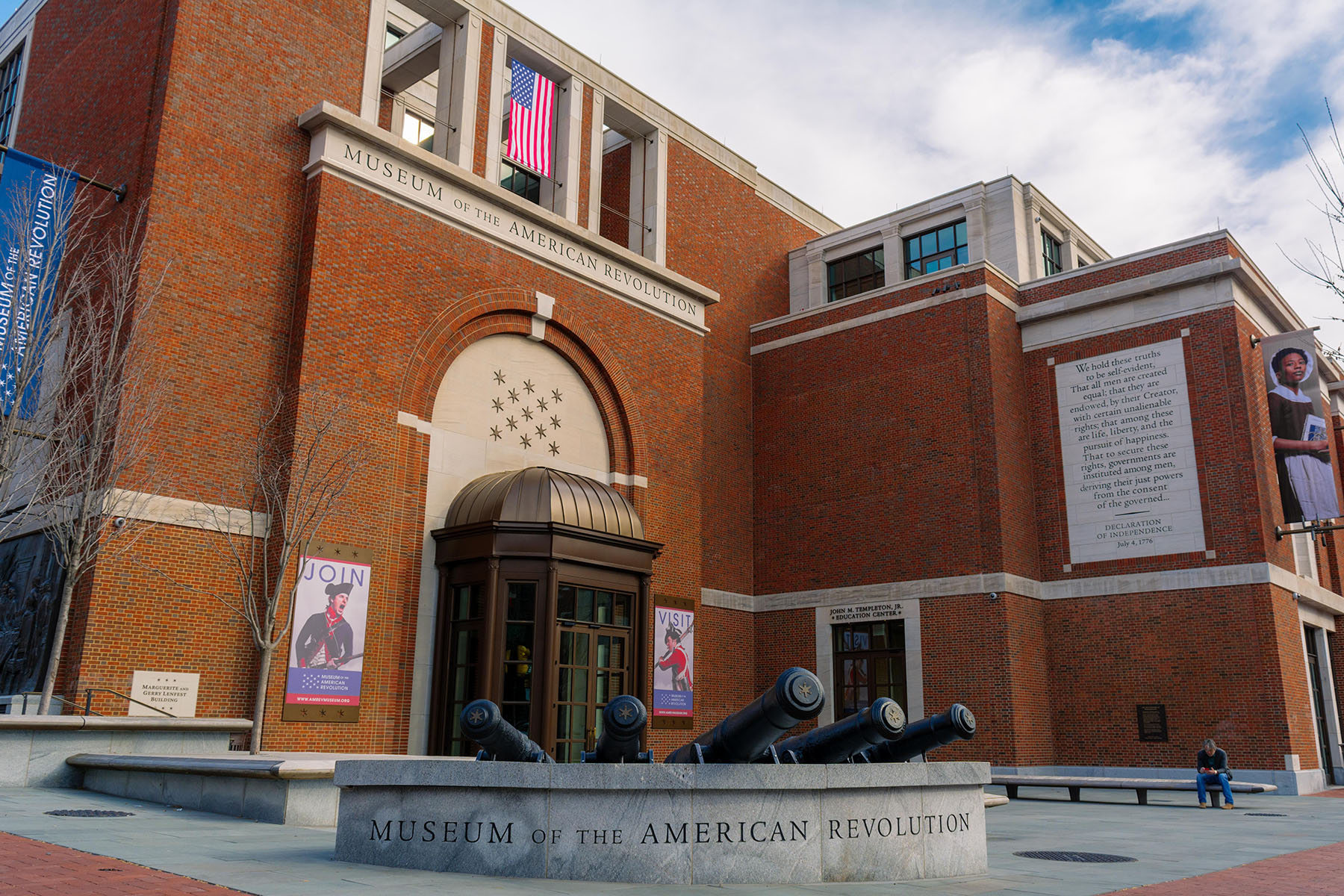 Occupied Philadelphia is sponsored by American Heritage Credit Union.
In the fall of 1777, Philadelphia was seized by the British and occupied for nine long months. The Museum of the American Revolution will recreate this little-known time in our city's history as part of its annual living history event, Occupied Philadelphia, on Saturday, October 28, 2023, from 10 AM – 5 PM and Sunday, October 29, 2023, from 10 AM – 3 PM The Museum will offer guided neighborhood walking tours and family-friendly activities exploring what life was like while British forces controlled – or, for some people, attempted to liberate – Philadelphia.
Throughout the weekend, visitors can visit four key locations to meet soldiers, civilians, prisoners of war, and spies as they demonstrate their trades, like carpentry, dressmaking, wheelwrighting, leatherwork, and more:
On the Museum's outdoor plaza, walk through a recreated marketplace environment, meet everyday people of British-occupied Philadelphia, and watch several artisans demonstrate their traditional crafts.
On the lawn behind Carpenters' Hall, see a recreated British encampment, watch traditional military drills, and meet prisoners-of-war to learn what life was like for them under British occupation.
In front of Carpenters' Hall, join in craft and military activities, and meet representatives from Independence National Park Service to learn more about Carpenters' Hall and the surrounding neighborhood during the 1777-78 British occupation.
Inside the Museum's core galleries, meet additional costumed living historians and join a Museum educator at a discovery cart to learn about the role of Black soldiers during the occupation. Plus, check out a small collection of artifacts related to the occupation and the Museum's neighborhood on the Museum's lower level in the workroom window. Regular Museum admission is required.
On Saturday and Sunday, the festivities will kick off with more than 50 costumed historical interpreters gathering on the Museum's outdoor plaza for the unfurling of the British flag and the reading of British General Howe's proclamation declaring Philadelphia an occupied city. The Museum's outdoor plaza will also be staged with several marketplace stalls, including craftspeople such as carpenters, dressmakers, wheelwrights, farmers, and more.
Join a guided walking tour and step into Philadelphia as it was occupied (or liberated?) by the British army in the fall of 1777. This hour-long walking tour will depart from the Museum every 30 minutes and includes stops at nearby historic sites to meet costumed interpreters and complete a "spy challenge" to aid the Revolutionary cause. Guests should plan on an outdoor tour of approximately one mile. Walking tour tickets can be purchased
here
. Member tickets can be purchased
here
.
On Saturday at 11 AM, kids and their adults can join a family-friendly, activity-filled History Explorer Meet-up to take a walking tour through Occupied Philadelphia's festivities. Explorers will meet British soldiers and everyday residents, get a hands-on glimpse into life under British authority, and gather the latest information to pass onto the spymaster. At least one adult must accompany up to three children. Tickets can be purchased
here
.
On Saturday and Sunday at 1 PM, join Independence National Historical Park Curator Debbie Miller in the Museum's Liberty Hall to explore 70 years of archaeological work in the Park and reflect on what archaeology, including traces of the British occupation found in homes and buildings across the city, reveal about life in Revolutionary Philadelphia. Original artifacts from the Park's collection will be on display. This talk is free to the public, but attendees must check in at the Museum's front desk for an admission wristband. Museum admission is not included.
On Sunday at 1 PM, museum members are invited to stop by the Museum's third-floor Liberty Hall for a spot of tea. While enjoying light refreshments, "loyal" Members and History Explorers alike will have the opportunity to spy on the bustling British-occupied marketplace on the Museum plaza from the terrace above. More information and free registration for Members can be found
here
.
Activities on the outdoor plaza are free and open to the public. Tickets for the guided walking tours and History Explorers Meet-up may be purchased in advance or on the day of the event. Tickets to the Museum can be purchased by calling 215.253.6731, at
AmRevMuseum.org
, or at the front desk. The Museum is open daily from 10 AM – 5 PM Black Founders: The Forten Family of Philadelphia is open daily from 11 AM – 5 PM through November 26, 2023, and is included with regular Museum admission. Save $2 per adult ticket by purchasing online. Kids ages 5 and under are always free. All tickets are valid for two consecutive days.