American Heritage Credit Union Spirit of Giving Food Drive Donates 12,600 Pounds of Food and Contributes $20,000 to Organizations Across Philadelphia, Montgomery, Bucks and Camden Counties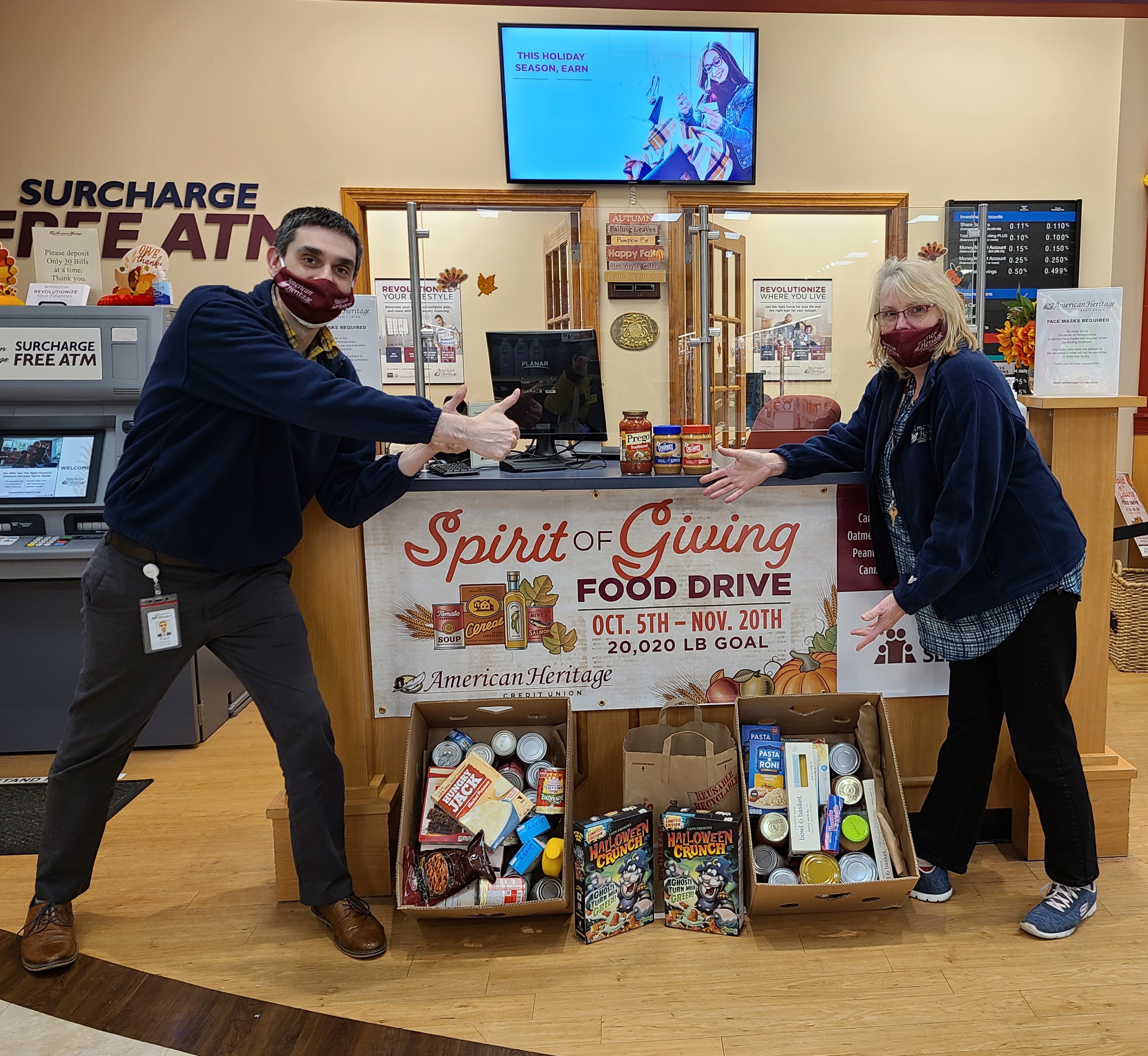 American Heritage Credit Union ("American Heritage") associates and members collected 12,600 pounds of food for various charities and organizations in the community during its seventh annual Spirit of Giving Food Drive.

American Heritage set an aggressive goal of collecting food donations throughout the months of October and November at all of its 35 branch locations. Thanks to the generosity of American Heritage's members, employees and community partners, donation baskets were overflowed with contributions, and as a result, 14 local food banks and pantries across Montgomery, Philadelphia, Bucks and Camden counties are receiving much-needed food donations. In addition to the food donations, American Heritage made donations totaling $20,000 to those 14 recipients as well.

American Heritage partnered with local organizations in each community it serves. The recipients of food donations include:

Philadelphia County Food Donation Recipients:
Philabundance
VNA Philadelphia
Bryn Mawr Avenue Church of God Food Pantry

Bucks County Food Donation Recipients:
Family Service Association
Pennridge Fish
Quakertown Food Pantry

Montgomery County Food Donation Recipients:
Manna on Main Street
Upper Merion Area Community Cupboard
Martha's Choice Marketplace
Bethel Community Church of Pottstown
Seeds of Hope Community Food Pantry
Daily Bread Community Food Pantry

Camden County Food Donation Recipients
Cherry Hill Food Pantry
Food Bank of South Jersey

"There are families in the communities we serve who are facing many challenges right now, including a greater need for food donations than in years prior," stated Bruce K. Foulke, President & CEO of American Heritage. "Many parents and children need our help right now and deserve to have food on the table during the holidays. The American Heritage family, including our members, community, associates, and business partners have shown their generosity through their donations to our Spirit of Giving this holiday season."